Post-Liposuction Massage | The Woodlands
Post-Liposuction Massage is available at Woodlands Wellness & Cosmetic Center
So you just underwent liposuction to remove fat from your body. You're closer to achieving the body you have always desired. What's the next step?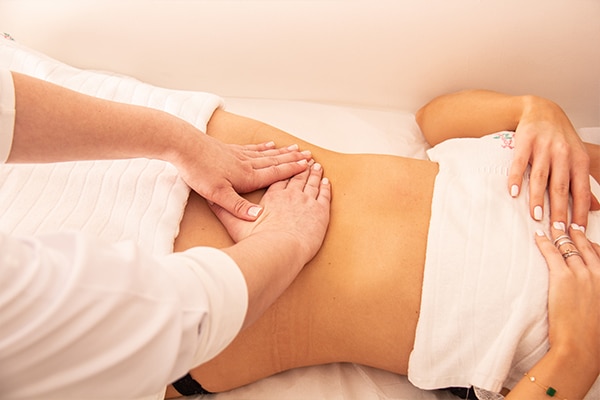 At Woodlands Wellness & Cosmetic Center at The Woodlands, we provide Post-Liposuction Massage using ThermiSmooth to accelerate the recovery time from liposuction and to ensure you achieve the best results possible. Procedures such as liposuction and other surgeries cause fluid build-up and produce swelling as part of the body's normal healing process.
A post-liposuction massage, also called a lymphatic massage, helps the lymphatic system function more effectively. It prevents inflammation and swelling, leading to fibrosis or permanent hardening of the area. Following surgery, special attention is given to the treated area to speed up recovery and improve results.
Heal quickly and achieve more beautiful results with post-liposuction massage at The Woodlands.
ThermiSmooth is performed by using radiofrequency energy and a temperature-controlled hand piece. By using small, circular motions, the hand piece will gently be rolled on the surface of your skin, while heating targeted tissues below your skin.  Patients often say if feels like a warm massage.
Benefits of Post-Liposuction Massage at The Woodlands
Through a series of gentle massage strokes, post-liposuction massage stimulates fluid flow through the lymphatic system, providing a multitude of benefits, including:
Enhances circulation – Post-liposuction massage improves circulation and fluid flow in lymphatic vessels. Draining the lymphatic fluid reduces swelling. The post-liposuction massage also helps carry white blood cells and proteins to the blood.
Decreases risk of infection and complications – Post-liposuction massage prevents potential infections and prolonged swelling. It also helps prevent the formation of scar tissue. It also prevents and decreases the severity of fibrosis or thickened tissue.
Improves recovery time – A post-liposuction massage assists in the recovery process following liposuction by enhancing circulation of the lymphatic system. It promotes the healing of incisions and diminishes bruising. Furthermore, it reduces swelling and edema, so patients should be able to see the liposuction results more quickly.
Reduces pain – The Woodlands's post-liposuction massage is more gentle than your typical massage. It can decrease pain and sensitivity during the recovery period. It also helps increase comfort and movement to the patient.
Optimizes results – The post-liposuction massage improves the overall results of your liposuction surgery. Skin and tissues are hydrated more efficiently, thus achieving a better appearance.
How Does Post-Liposuction Massage at The Woodlands Work?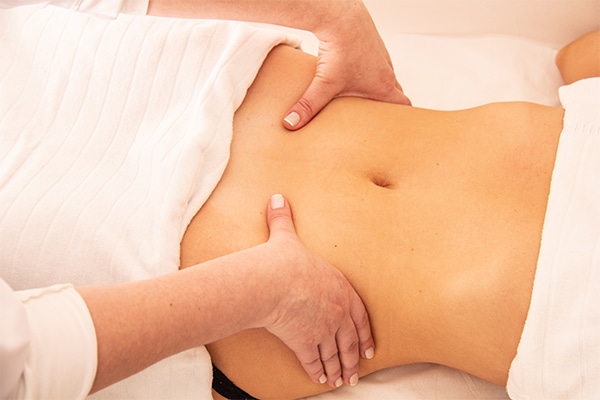 After liposuction, the body produces extra lymphatic fluid as it reacts to the traumatic action of the fat being removed. In some cases, tissue damage leads to edema, an accumulation of excess fluid.
After liposuction, your plastic surgeon might recommend that you schedule a follow-up appointment for a post-liposuction massage, which can assist in the healing process. Despite liposuction's intended purpose of removing pesky fat, it's still an invasive procedure that disrupts several physiological functions.
During a post-liposuction massage, specific gentle strokes encourage lymphatic fluid flow. Therapists gently manipulate the skin and underlying tissues in areas of lymph production to increase circulation and promote healing. The massage generally tends to leave the patient relaxed and comfortable. Post-liposuction massage reduces discomfort and swelling after.
Good Candidates for Post-Liposuction Massage
If you have swelling or fluid build-up after liposuction that is hard to reduce, you might be a good candidate for post-liposuction massage. Patients who use compression garments ineffectively or who are unable to wear them regularly are more likely to suffer complications.
If you don't follow your surgeon's detailed post-liposuction recovery instructions, you may want to consider a post-liposuction massage afterward. Some patients may want the supplemental procedure for peace of mind, even if the procedure isn't necessary. Post-liposuction massage helps in reducing pain and increases the likelihood that there won't be complications or infections.
What to Expect After Post-Liposuction Massage
Having a post-liposuction massage at The Woodlands can help reduce the pain, swelling, and fibrosis after liposuction. Surgical intervention involves damage to tissue and swelling in the body's response to damaged tissue. Swelling can cause edema, and if this edema is left untreated, it can cause fibrosis.
Therefore, it is critical to receive postoperative care within the first 6 to 8 weeks following your liposuction. The post-liposuction massage can help reduce swelling, pain, decrease recovery time, and achieve your desired outcome faster.
Continual post-operative care is extremely important after liposuction of any part of the body in the first 6 to 8 weeks and should begin within 4 to 7 days. Your surgeon will provide post-op care, such as self-massage and gentle walking in compression garments. A post-liposuction massage is also recommended twice to three times a week. The general recommendation is three to five massages, but some patients can benefit from just one or two.
Each weekly session lasts a certain amount of time, depending on the amount of fat removed from the body. In general, the first session lasts 60 to 90 minutes, and subsequent sessions will be tailored to the needs of each individual.
Post-Liposuction Massage at The Woodlands
At Woodlands Wellness & Cosmetic Center at The Woodlands, we offer post-liposuction massages to help alleviate pain associated with surgery. We will ensure that you get the best results possible from your liposuction with the post-liposuction massage.
Contact us today at (281) 223-1124 for a consultation and take that first step to a more confident and attractive version of yourself.
Common Questions About Post-Liposuction Massage

When should I start my Post-Liposuction Massage?
Surgeons often recommend that their patients supplement their recovery with lymphatic drainage as early as possible, ideally within the first few days post-surgery. The idea behind this recommendation is that lymphatic drainage can help prevent the build-up of fluid and the formation of scar tissue. We recommend getting your drainage tubes taken out before your sessions.

Can I get a Post-Liposuction Massage before my surgery?
Post-Liposuction massage is generally a lymphatic drainage massage. This will improve your lymphatic system, so your body is more prepared to take on the effects of the surgery

How often should I do a Post-Liposuction Massage?
A general recommendation is to have three to five massage treatments, but some patients may experience benefits from as few as one to two treatments. Your cosmetic surgeon can advise you whether lymphatic massage will benefit you following your liposuction or other surgical procedure.

Hear what people are saying about us. Read the amazing reviews and testimonials from real-life patients we help every day. Woodlands Wellness and Cosmetic Center amazing anti-aging treatments are nothing short of life-changing.
I've been seen Dr Sakina Davis for about 15 years now, she is very professional and spends enough time with you to treat the 'whole you', everything is connected and balancing hormones helps to treat and prevent many conditions. Her experience with bio-identical hormones proved invaluable for that particular stage of my life when I needed it the most. She is always up to date with new treatments coming up and this cutting edge medicine she practices has helped, also, with my back pain issues, allowing me to avoid a fusion surgery and still be able to function. Her staff is super efficient, nice to deal with and first class. AAA+

I've been seeing Dr. George for 10 years and absolutely love him and the staff. He always has your best interest at heart and does everything possible to achieve your goals and produce positive results. Wouldn't go anyplace else for my cosmetic needs!

This has been one of the most rewarding experiences I have ever had in a medical setting. The doctors and staff are the most professional, personable, and talented providers I have met. The results are phenomenal and went way beyond my expectations. I can honestly say that the value of the services have been fantastic and I would do it all over again...but I do not need to because it was done right the first time. :). I highly recommend Woodlands Wellness & Cosmetic Center!