Microneedling RF in Woodlands TX
If you're looking to achieve younger-looking skin, look no further than the Woodlands Wellness & Cosmetic Center. Our specialists offer a range of services, including microneedling and collagen induction therapy.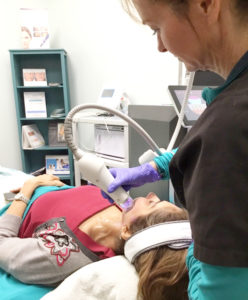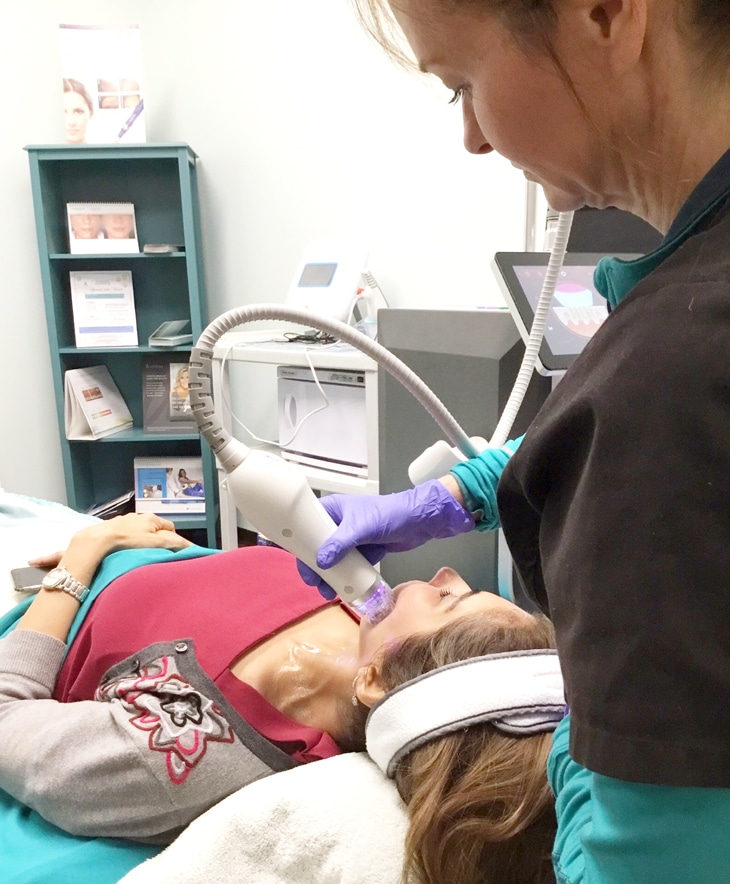 Microneedling is a great way to use the healing powers of your own body to provide you with younger-looking skin!
Drs. George and Sakina Davis and the medical team of experts at Woodlands Wellness and Cosmetic Center in The Woodlands, Texas, offer traditional microneedling treatments using SkinPen®, as well as Secret™ RF microneedling.
Microneedling, also called collagen induction therapy, is a cosmetic treatment aimed at stimulating the production of collagen, which is a structural protein responsible for your skin's elasticity and strength.
"Microneedling is a multipurpose skin treatment that can restore a younger look and a more youthful glow to your skin."
Who Can Benefit From Microneedling?
Microneedling is a multipurpose aesthetic skincare treatment. Our specialists use microneedling to fix many common skin concerns, including:
Fine lines and wrinkles
Sun damage
Acne scars
Stretch marks
Large pores
You may also consider the cosmetic treatment to restore your skin's youthful glow and vitality.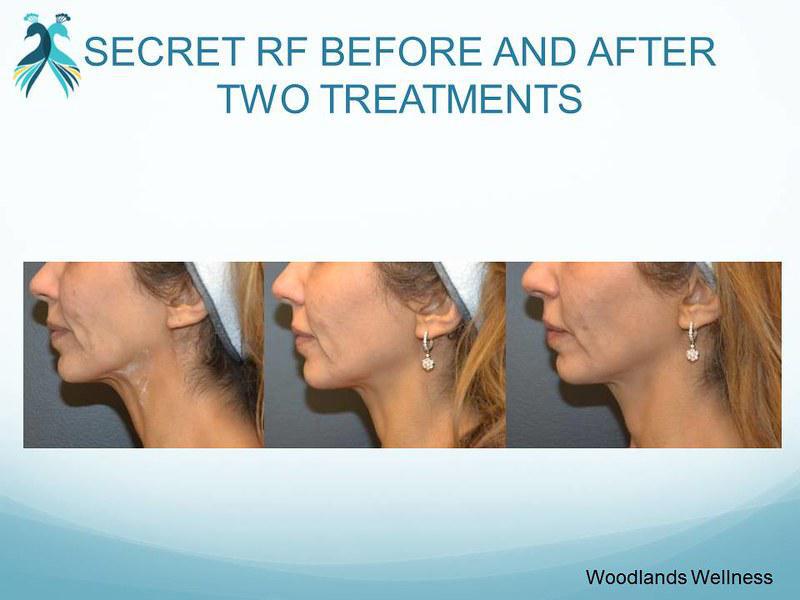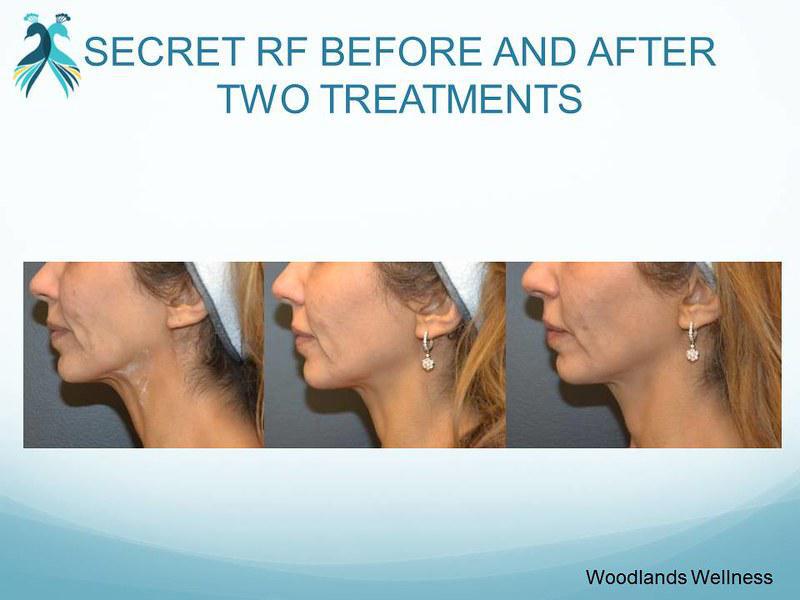 How Does Microneedling Work?
During your microneedling treatment, the team at Woodlands Wellness and Cosmetic Center uses a special tool that creates microtears in the surface of your skin. The microtears simulate a wound, which triggers your body's natural healing system to repair the damage, including the production of new collagen.
This results in a reduction of saggy, wrinkly skin that can make you look much older than you feel.
What Kind of Results Can I Expect From Microneedling?
In our practice, we use two microneedling tools — the SkinPen and Secret RF.
SkinPen microneedling takes about 30 minutes. To minimize discomfort during your SkinPen microneedling, the team applies a numbing cream to your skin prior to treatment.
Secret RF takes 45 minutes to an hour of your time and requires little to no downtime. To minimize discomfort, the team applies a numbing agent to your skin prior to treatment.
Patients see remarkable results from either technique. You and your cosmetic specialist will decide which is best for your skin condition and desired results.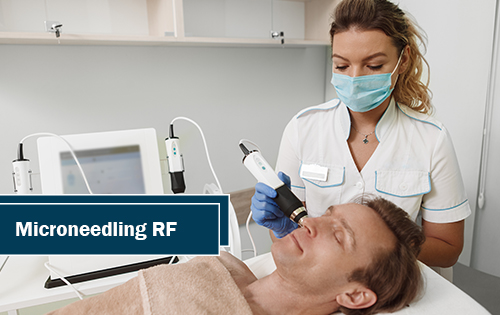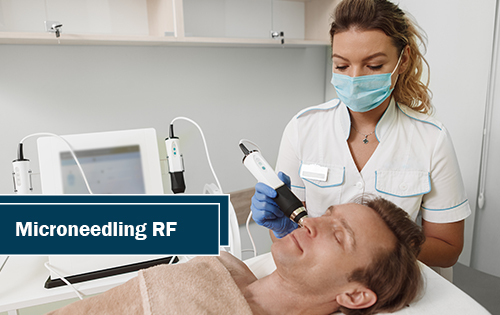 With microneedling, you can expect:
A rapid recovery time
No scarring whatsoever
An almost immediate more youthful "glow" to your skin
Smoother looking skin
Increased production of collagen and stem cells over time, resulting in firmer, more youthful-looking skin
Long-lasting results
We Take a Different Approach to Aesthetic Skin Treatments Like Microneedling
At Woodlands Wellness and Cosmetic Center, we realize that not all patients with saggy, crepey skin will have the same problem or aesthetic goals. We will tailor your microneedling and aesthetic treatment plan to your unique needs and lifestyle to maximize your benefits and optimize your results.
Drs. George and Sakina Davis and the entire staff at Woodland Wellness are committed to making sure that all of our clients receive expert care from providers who specialize in regenerative and functional medicine. This unique approach identifies and resolves underlying health problems that affect both body and mind. Functional medicine boosts overall wellness and addresses cosmetic concerns.
In addition to skin tightening techniques like microneedling, we offer a broad range of body contouring, injectables, and other cosmetic procedures. Clients at Woodlands Wellness and Cosmetic Center also have access to a full range of anti-aging services and Botox, including Coolsculpting, Skin Tightening, and Non-Invasive Facelift.
Our goal is to help as many people as we can age optimally and continue to enjoy all the things they love about life!
Contact us today at 281-362-0014 for a consultation to see how you can benefit from the microneedling or any of the antiaging services offered by Woodlands Wellness and Cosmetic Center.
Common Questions About Microneedling

What Is SkinPen Microneedling?
SkinPen was the world's first FDA-cleared microneedling device. This state-of-the-art microneedling tool is designed to treat numerous areas of the body, including the face, neck, chest, arms, hands, legs, abdomen, and back. The tool allows for controlled induction of your skin's natural repair process to trigger new collagen synthesis without causing scar tissue formation.
You may experience some skin redness following your session, similar to a sunburn, but these side effects should disappear quickly with little to no downtime.
For optimal results, the team may recommend a series of treatments.

What is Secret RF microneedling?
Secret RF microneedling is a more advanced tool that combines microneedling with radiofrequency energy. The advanced cosmetic device uses microneedles to deliver fractional radiofrequency energy into varying levels of your skin, including the deeper layers where treatment is more beneficial.
To achieve optimal results, the team recommends three to four Secret RF microneedling treatments set at four- to six-week intervals. To keep your skin looking fresh and youthful, the team recommends maintenance treatments every 12-18 months.

Hear what people are saying about us. Read the amazing reviews and testimonials from real-life patients we help every day. Woodlands Wellness and Cosmetic Center amazing anti-aging treatments are nothing short of life-changing.
I've been seen Dr Sakina Davis for about 15 years now, she is very professional and spends enough time with you to treat the 'whole you', everything is connected and balancing hormones helps to treat and prevent many conditions. Her experience with bio-identical hormones proved invaluable for that particular stage of my life when I needed it the most. She is always up to date with new treatments coming up and this cutting edge medicine she practices has helped, also, with my back pain issues, allowing me to avoid a fusion surgery and still be able to function. Her staff is super efficient, nice to deal with and first class. AAA+

I've been seeing Dr. George for 10 years and absolutely love him and the staff. He always has your best interest at heart and does everything possible to achieve your goals and produce positive results. Wouldn't go anyplace else for my cosmetic needs!

This has been one of the most rewarding experiences I have ever had in a medical setting. The doctors and staff are the most professional, personable, and talented providers I have met. The results are phenomenal and went way beyond my expectations. I can honestly say that the value of the services have been fantastic and I would do it all over again...but I do not need to because it was done right the first time. :). I highly recommend Woodlands Wellness & Cosmetic Center!