Acne Treatment | Woodlands, TX
Acne Treatment At Woodlands Wellness & Cosmetic Center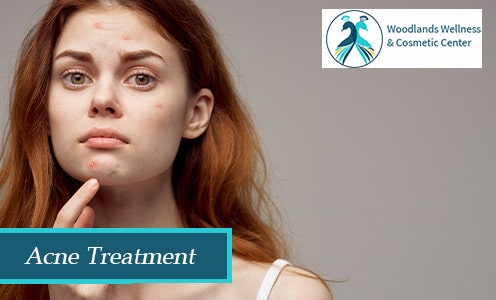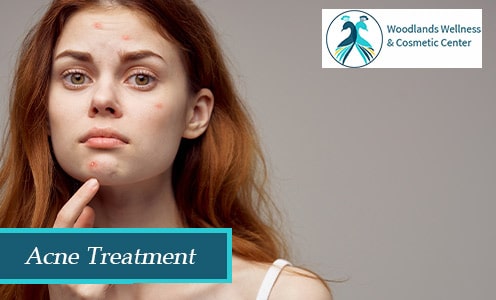 Acne is a chronic skin condition that affects people of all ages, genders, and ethnicities. If the acne is not treated correctly, it can lead to scarring or other complications.
Woodlands Wellness and Cosmetic Center in The Woodlands, TX, tackles acne differently. We recognize that there is no one-size-fits-all solution for acne.
We make sure to target the root cause of acne to provide you with the best treatment suitable for you.
Our acne treatment programs help control acne, prevent acne scars, and reduce the formation of new acne. Our treatments are specifically tailored to meet the needs of the patient.
Feel more confident with our acne treatment options that offer immediate and long-lasting results!
Benefits of Acne Treatment
Our different treatments provide long-lasting results to ensure that your skin is clearer and healthier. Our treatments are safe and effective in treating acne and protecting the skin from further breakouts and damage.
Reduces oil production

– Our treatment cleanses the skin and reduces excess oil. 

Unclogs pores

– We exfoliate and remove deep-seated dirt from the pores to prevent further clogs. Unclogged pores also help prevent acne, blackheads, and whiteheads.

Controls future acne breakouts

– Acne treatment also serves as a preventative measure, as it can help control acne and prevent future breakouts from occurring.

Personalized treatments

– Our treatment regimens are personalized depending on the patient's age, type, and severity of acne. We use a combination of treatments to give you the best regimen possible.

Long-term results

– When combined with a healthy lifestyle and diet, our acne treatments can provide long-lasting results.
Acne Treatment Options at Woodlands Wellness & Cosmetic Center
We offer a variety of safe and effective treatments. 
Chemical Peels

– Our acne treatment may involve chemical peels such as

VI Peels

and

PRX Glow Peel

. Aside from acne, these treatments help target different skin issues such as acne scars and uneven skin tone. Our chemical peels will leave you a more flawless and radiant skin.

DiamondGlow

– DiamondGlow is a non-invasive, medical grade resurfacing treatment that simultaneously exfoliates, extracts, and infuses the skin with advanced serums. DiamondGlow is an excellent treatment option as it deeply treats congested skin and acne.

Hydrafacial – If you suffer from acne, HydraFacials are an extremely effective, non-invasive treatment option for managing and preventing breakouts, resulting in a significant improvement to your skin's texture and tone.

 

Laser Genesis Facial –

We provide Laser Genesis, a non-invasive procedure that uses a laser to stimulate new cell growth and collagen production. This excellent acne treatment heats the deeper layers of the skin tissue, effectively breaking up the leading causes of acne (dirt, oil, and bacteria). 

Prescription Medicine for Acne

– Our treatment options include topical and oral prescription medications. 

Functional Medicine

– We aim to target the root cause of acne. We also treat hormone imbalances and food sensitivities that may contribute to acne using

hormone therapy

and

food allergy testing

. 

Supplements – An advanced nutritional supplement for problem skin made with a patented formula of vitamins A, C, and E plus diindolylmethane (DIM). Uniquely designed to keep acne away.
Skin Care Products – Medical grade, professional line of skincare products are available at our office to give your skin extra support and nourishment to prevent acne.
Acne can be caused by various factors, including hormonal changes, stress, or a poor diet. Our doctors at Woodlands Wellness & Cosmetic Center will diagnose you accurately and provide you with the acne treatment that will work for you.
What To Expect After Acne Treatment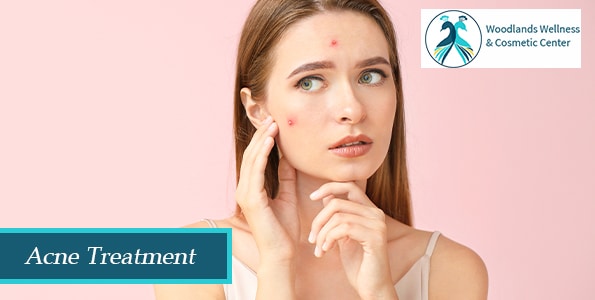 Based on your family history and medical history, we will determine the best treatment plan once we have accurately diagnosed you.
Additionally, we will discuss your goals and preferences to provide realistic expectations regarding treatment options.
We will recommend your acne treatment regimen based on the type and severity of your acne.
The results of this procedure may vary from person to person, like any medical treatment or procedure. Acne is a chronic condition that we can treat with various therapies.
It's important to remember that consistency is critical in treating and managing acne. Sticking to the treatment regimen planned out by our experts will help you achieve acne-free, flawless, and radiant skin.
Gain More Confidence with Acne Treatment
Our goal is to help you be more confident about yourself by refining your skin's appearance! At Woodlands Wellness & Cosmetic Center, we provide various acne treatments to give you glowing, flawless, and healthy skin. 
Contact us today at 281-362-0014 for a consultation and take that first step to a more confident and attractive version of yourself. 
Common Questions About Acne Treatment

What does the DiamondGlow facial do as an acne treatment?
DiamondGlow helps remove impurities from your pores, leaving you with smoother, clearer, and healthier skin. This helps reduce oil production and prevents acne from forming.

Is it good to take acne treatment?
Maybe it is time to consider professional treatments if you don't see improvement from self-care and over-the-counter treatments. Early treatment lowers your chances of scarring.

Which oral medications are best for acne treatment?
Depending on the type and severity of your acne, we will prescribe oral and topical medications for your acne treatment regimen. You might need oral antibiotics for moderate to severe acne to reduce bacteria.

Is chemical peeling a good acne treatment?
Chemical peels are best for acne scars. Still, they may also provide a promising treatment depending on your acne type. Superficial or mild chemical peels help manage acne, as they help control oil production.

How can I regulate my hormones to prevent acne?
Our experts will give you an acne treatment plan that will help improve acne symptoms. Acne can be prevented by regulating hormones, eating a nutrient-dense diet, and removing acne-causing foods from your diet.

Hear what people are saying about us. Read the amazing reviews and testimonials from real-life patients we help every day. Woodlands Wellness and Cosmetic Center amazing anti-aging treatments are nothing short of life-changing.
I've been seen Dr Sakina Davis for about 15 years now, she is very professional and spends enough time with you to treat the 'whole you', everything is connected and balancing hormones helps to treat and prevent many conditions. Her experience with bio-identical hormones proved invaluable for that particular stage of my life when I needed it the most. She is always up to date with new treatments coming up and this cutting edge medicine she practices has helped, also, with my back pain issues, allowing me to avoid a fusion surgery and still be able to function. Her staff is super efficient, nice to deal with and first class. AAA+

I've been seeing Dr. George for 10 years and absolutely love him and the staff. He always has your best interest at heart and does everything possible to achieve your goals and produce positive results. Wouldn't go anyplace else for my cosmetic needs!

This has been one of the most rewarding experiences I have ever had in a medical setting. The doctors and staff are the most professional, personable, and talented providers I have met. The results are phenomenal and went way beyond my expectations. I can honestly say that the value of the services have been fantastic and I would do it all over again...but I do not need to because it was done right the first time. :). I highly recommend Woodlands Wellness & Cosmetic Center!