Dysport | Woodlnads TX
We offer Dysport®, a Botox-like product to smooth out moderate to severe wrinkles.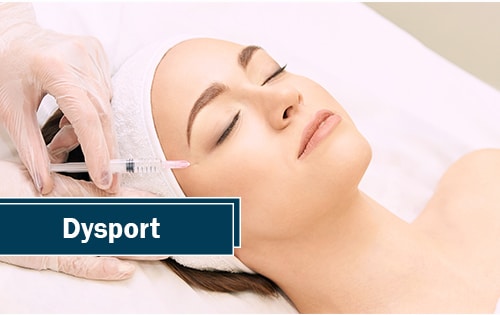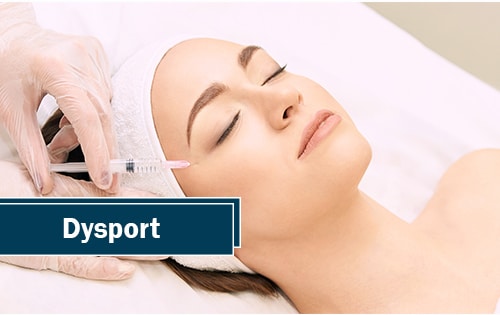 Dysport provides you natural-looking results that look and feel like you.
Wrinkles and frown lines are caused by repeated movements and muscle contractions.
Even younger adults may develop frown lines.
Dysport will help in softening and improving the appearance of moderate to severe frown lines between the eyebrows, giving you natural-looking results.
Dysport is a prescription injection that improves the appearance of frown lines between the eyebrows without changing the look of the rest of your face

Benefits Of Dysport Treatment
Woodlands Wellness & Cosmetic Center uses Dysport to give your face a temporary lift by smoothing out frown lines and wrinkles. It uses botulinum toxin to temporarily relax the muscle contractions causing these frown lines and wrinkles. Dysport is safe, FDA-approved, and produces results without causing side effects.
Reduced fine lines and wrinkles – Smile lines and frown lines are more pronounced from constant muscle contractions whenever we do facial expressions. Dysport temporarily relaxes the muscles in between our eyebrows to prevent them from contracting, giving a smooth and wrinkle-free appearance.
Natural-looking – Dysport only targets specific muscles responsible for the kinds of wrinkles that you are having issues with, such as the glabellar muscles. The other facial muscles will be unaffected, so you will still have a natural-looking face.
Immediate results – Dysport is fast-acting, with results expected within 2 to 3 days after the treatment. Delays appearance of new lines – As the muscles between the eyebrows are relaxed, these injections may help prevent the formation of new lines and wrinkles.
How Dysport Works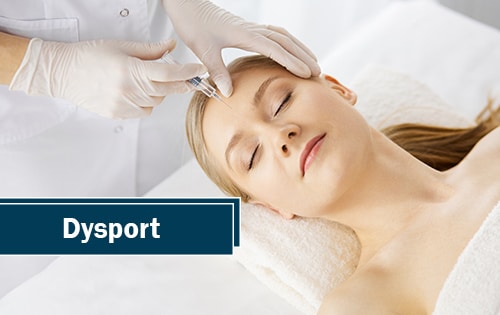 Dysport is injected into 5 different points between and above the eyebrows to temporarily reduce specific muscle activity.
Repetitive facial expressions from muscle contractions leave lines and wrinkles on the face.
By injecting Dysport into the forehead, muscle contractions are prevented, creating natural-looking results.
At Woodlands Wellness & Cosmetic Center, we treat moderate to severe frown lines between the eyebrows to get a younger-looking appearance.
Dysport is fast-acting, as you may notice significantly reduced frown lines 2 to 3 days after treatment. These injections are long-lasting, as results may last up to 5 months. Multiple sessions may be performed as well to maintain the results. Most patients do these injections twice a year to maintain the reduced appearance of frown lines and wrinkles on the face. This gives a younger-looking appearance long-term.
Is Dysport Suitable For Me?
Speak with the healthcare specialist to determine if Dysport is right for you. Dysport may not be right for you if:
You have had surgical changes to your face
You have very weak muscles in the treatment area
You have deep facial scars
You are allergic to Dysport or any of its ingredients
You have droopy eyelids or sagging eyelid folds
What Can I Expect After The Procedure?
Before the procedure, we will carefully assess your medical history to determine if Dysport may be suitable for you. Our aesthetician will then inject Dysport into 5 different areas of the forehead, ensuring a naturally looking lifted face. As with any medical treatment or procedure, the results of the procedure may vary per person.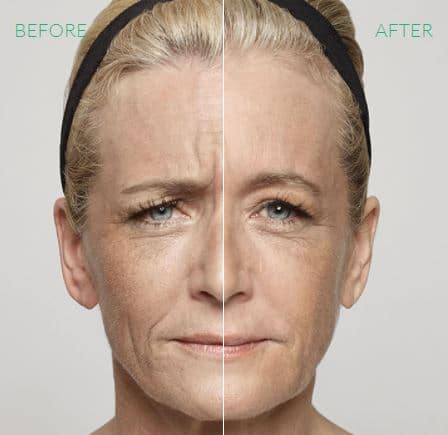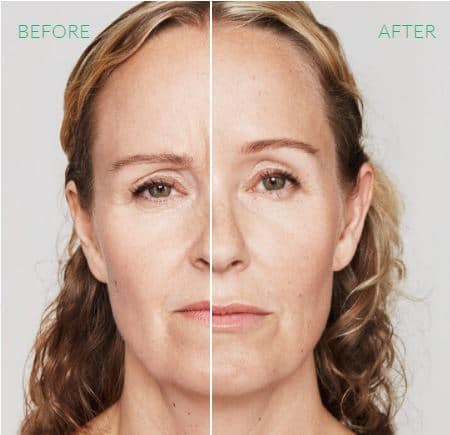 The entire procedure is quick and almost pain-free. There is minimal downtime after the treatment, which means you can get back to your day faster. You may notice immediate results after the first treatment session, but most patients see improvement in their frown lines 2 to 3 days after the first session. Typically, results last up to 5 months, but these may be prolonged. Results of repeat treatments may be comparable to your first use.
Dysport injection requires minimal downtime after the treatment. You can get back to your day faster. Some people may experience skin reactions on the injection site, but these are completely normal and may resolve within a few days.
If you want natural-looking results and reduced fine lines and wrinkles, then maybe we can help you! At Woodlands Wellness & Cosmetic Center, we provide Dysport to temporarily improve moderate to severe frown lines between the eyebrows, making you feel more confident, attractive, and happier.
Contact us today at 281-362-0014 for a complimentary consultation and take that first step to a more confident and attractive version of yourself.
Common Questions About Dysport Specialist

What is the difference between Dysport and Botox?
Both Dysport and Botox aim to smooth out wrinkles on the face. Dysport, in general, is used for smoothing out moderate to severe frown lines between your eyebrows. On the other hand, Botox may be used for different types of wrinkles, such as crow's feet, forehead wrinkles, and laugh lines.

How long does it take for Dysport to settle?
Dysport starts working immediately. You may notice the results of the first session within 48 hours after injection. Usually, best results may be noticed by 2 weeks.

Can Dysport lift your eyebrows?
Yes, Dysport may also be used to lift the eyebrows, raise the corners of the mouth for a more lifted look, and relax the jaw muscles to slim the face.

Does Dysport migrate?
Dysport contains smaller particles, so its effects are quicker to manifest than Botox. However, Dysport can also migrate out of the intended treatment area more readily. We, at Woodlands, are experts in Dysport injections, so we can prevent migration from happening.

How long does Dysport last?
Dysport lasts from 3 to 6 months, as it has a feather effect creating a more natural appearance. However, you may prolong the effects of Dysport by protecting yourself from UV rays, maintaining a good skin care routine to help relax facial muscles, and eating a healthy diet to decrease inflammation that may hinder results of Dysport.

Hear what people are saying about us. Read the amazing reviews and testimonials from real-life patients we help every day. Woodlands Wellness and Cosmetic Center amazing anti-aging treatments are nothing short of life-changing.
I've been seen Dr Sakina Davis for about 15 years now, she is very professional and spends enough time with you to treat the 'whole you', everything is connected and balancing hormones helps to treat and prevent many conditions. Her experience with bio-identical hormones proved invaluable for that particular stage of my life when I needed it the most. She is always up to date with new treatments coming up and this cutting edge medicine she practices has helped, also, with my back pain issues, allowing me to avoid a fusion surgery and still be able to function. Her staff is super efficient, nice to deal with and first class. AAA+

I've been seeing Dr. George for 10 years and absolutely love him and the staff. He always has your best interest at heart and does everything possible to achieve your goals and produce positive results. Wouldn't go anyplace else for my cosmetic needs!

This has been one of the most rewarding experiences I have ever had in a medical setting. The doctors and staff are the most professional, personable, and talented providers I have met. The results are phenomenal and went way beyond my expectations. I can honestly say that the value of the services have been fantastic and I would do it all over again...but I do not need to because it was done right the first time. :). I highly recommend Woodlands Wellness & Cosmetic Center!