Find out what foods help with your body sculpting, along with another fast approach to get results in Woodlands.
Fitness and exercise is a topics commonly discussed, but what about those who are looking for specific fitness goals?
Many people want to tone their muscles, sculpt their bodies, and lose fat. But what does this process actually entail?
What food should you eat? Toning muscles and body sculpting might seem like an easy concept, but it's easier said than done. 
Here are some tips on what to eat to help you tone your muscles and get the definition that you've been striving for, along with why toning muscles is beneficial.
First, why is body sculpting and toning your muscles important?
Toning muscles and body sculpting is important because they can affect your health. When you have strong, stretchy muscles, it helps to improve your posture, control blood sugar levels, and maintain a healthy weight.
Toning your muscles and sculpting your body are also beneficial to your mental health. When you have good muscle tone, it helps to improve your self-esteem and confidence levels.
Can eating a certain diet help tone your body and muscles faster?
Eating healthy is always important. This is especially true when you are trying to work on muscle toning. Protein is one of the major sources of food you should focus on. You should stay away from anything with too many complex carbohydrates and sugar.
An occasional alcoholic drink shouldn't hinder your entire progress, but it is important to not consume a lot of alcohol if muscle toning is your goal.
Some ideas for food that help to build lean muscle:
Chicken – Chicken is a food source that is a staple for many people who are conscious of their muscle toning and building goals.

It's not just a great source of protein; it also has generous amounts of vitamin B6 and niacin, which can help your body perform to the level of physical activity you need.

The good thing about chicken is there are many ways to cook it and different meals to make, so you don't have to eat the same thing all the time.

Eggs – Eggs are one thing you can count on for providing high-quality protein, nutrients, and healthy fats. They also have large amounts of leucine, an amino acid vital for muscle gain.

Greek Yogurt – Dairy is a high-quality protein but also a slow-digesting casein protein and fast-digesting whey protein. Research reveals people notice an increase in lean mass when they consume slow and fast-digesting proteins.

Of course, not all dairy is considered the healthiest option. For example, greek yogurt offers double the amount of protein compared to regular yogurt.

Learn More Here: 7 Exercises To Help Tone Your Body

Salmon – A great alternative when you need something besides chicken.

For every 3 ounces of salmon, you get around 17 grams of protein, which is equivalent to nearly 2 grams of omega-3 fatty acids and numerous important B vitamins. When focusing on your muscular health, omega-3 fatty acids are crucial.

Lean beef – Lean beef is loaded with creatine, minerals, B vitamins, and high-quality protein. Some research shows evidence that lean red meat can increase the amount of lean mass you can gain during weight training.

Lean beef is a great diet staple when you want to gain muscle but not consume too many calories.

Tuna – Tuna offers around 20 grams of protein for every 3 ounces. Aside from protein, it also is packed with lots of vitamins like Vitamin A, several B vitamins, and niacin.

The nutrients are vital for energy, exercise performance, and energy. Tuna also provides omega-3 fatty acids, which can promote muscle health.

Soybeans – Soybeans are a great source of phosphorus, iron, and vitamin K. Just half a cup of cooked soybeans provides around 14 grams of protein and healthy unsaturated fats.

Shrimp – Shrimp is mostly pure protein. For every 3 ounces, you can expect to get 18 grams of protein, zero carbs, and 1 gram of fat. Just like other animal proteins, shrimp has a high amount of leucine, an amino acid that is critical for muscle growth.
Speed up the body sculpting process with Muscle Sculpting at Woodlands, TX.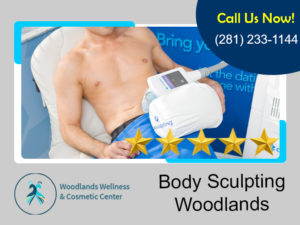 You can exercise and eat healthy for years and still not be satisfied with certain areas of your body.
You may be healthy BMI-wise, but are you happy with your muscle tone? If not, body sculpting can give you a look you have been working hard to achieve.
Several areas of the body can cling to fat, and no matter how much extreme dieting or intense workouts you do, you may never notice a difference.
With body sculpting, the procedure can target pesky areas like the upper and lower abdomen, legs, arms, thighs, buttocks, and hips. This technique is for any body type or shape and is clinically proven to reduce fat in stubborn areas around your flanks and abdomen.
It only takes 15 minutes for each area and is personalized to fit your needs and preferences. This specific technique uses thermal energy that comes from RF waves to melt away fat (literally). The heat targets the fat cells directly. There is no pain; you just may feel a mild warm sensation.
Woodlands Wellness and Cosmetic Center offer state-of-the-art procedures like Body Sculpting to help clients achieve their aesthetic goals without surgery.
At Woodlands Wellness and Cosmetic Center, our clients receive expert care from providers who specialize in regenerative and functional medicine. Our unique approach identifies and resolves underlying health problems that affect both body and mind. Functional medicine boosts overall wellness and addresses cosmetic concerns.
At Woodlands Wellness and Cosmetic Center, we provide clinically proven Body Contouring Techniques such as:
Clients at Woodlands Wellness and Cosmetic Center also have access to a full range of aesthetic treatments. The practice specializes in antiaging services, including Botox®, injectables, chemical peels, and skin tightening treatments.
Contact Woodlands Wellness to schedule an appointment or talk with one of our professionals. You can call us at (281) 223-1124. We look forward to helping you sculpt your body and gain your confidence back.