Bioidentical Testosterone Is a Safe Treatment for Menopausal Women
Despite what you may think, bioidentical testosterone is completely safe for women
Women have a lot of misconceptions about testosterone therapy. Famed actress Davina McCall recently took to Instagram to share her bioidentical hormone replacement therapy routine with fans in an effort to "destigmatize" the procedure.
Wrapped in only a towel, in the somewhat whimsical video, McCall tells fans that "testosterone doesn't make you grow a penis."
Among the hormones the former Big Brother host said she was taking, McCall said she was on "replacement testosterone," which she quickly went on to say does not "make you grow a penis or get testicles or hairy."
Live in front of her 1.3 million Instagram followers, Davina posted the short clip about her hormone therapy.
"My morning HRT routine!" she wrote.

She continued: "Just trying to demystify and destigmatize HRT."

"It occurred to me that because we don't talk about it, some of you might like to see what it is and how u put it on."

After going through some of her hormone replacements, the star revealed that she is also on testosterone.

"Did you know testosterone is an enormously important woman's hormone as well?" she asked fans.

"My testosterone was low, and I take a pea-sized bit of testosterone, and I rub it on my thigh at the same time as I do all my other hormones."

The star went on to clarify: "By the way, taking testosterone does not make you grow a penis, or testicles or anything like that.

"I am not taking extra testosterone; I am just replacing my levels to where they should be."
Bioidentical Hormone Therapy and Menopause
Everything that Ms. McCall says is about women using testosterone is 100% true. And, if women want to be sure to be using the safest and most effective form of testosterone, or any kind of hormone replacement, they want to be sure to use bioidentical hormones.
Bioidentical hormones are exact duplicates of the naturally occurring hormones produced by your body. As opposed to synthetic hormones, bioidentical hormones have the same molecular structure as your naturally occurring hormones.
That means they are better tolerated, immediately recognized by your body, and used where they are needed much more easily. Bioidentical hormones may be delivered in several forms, such as the creams used by Ms. McCall. However, our doctors prefer Hormone Pellet Therapy.
Bioidentical hormone replacement therapy is particularly effective in treating women dealing with menopausal symptoms.
Restoring hormonal balance with bioidentical hormones has helped many women make the transition to the menopausal phase of life much more comfortable. Benefits experienced from using bioidentical hormones can include:
Improved sleep quality
Reduction or elimination of hot flashes
Increased energy
Increased libido and more satisfying sex
Many women on bioidentical hormone replacement find that mood swings, anxiety, and depression are improved or eliminated as the body's hormones come back into balance, promoting a general sense of well-being.
What Every Woman Needs to Know About Bioidentical Hormones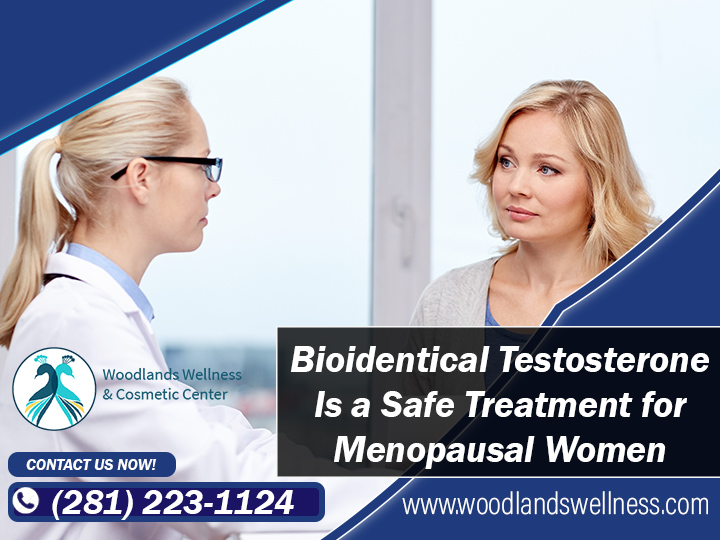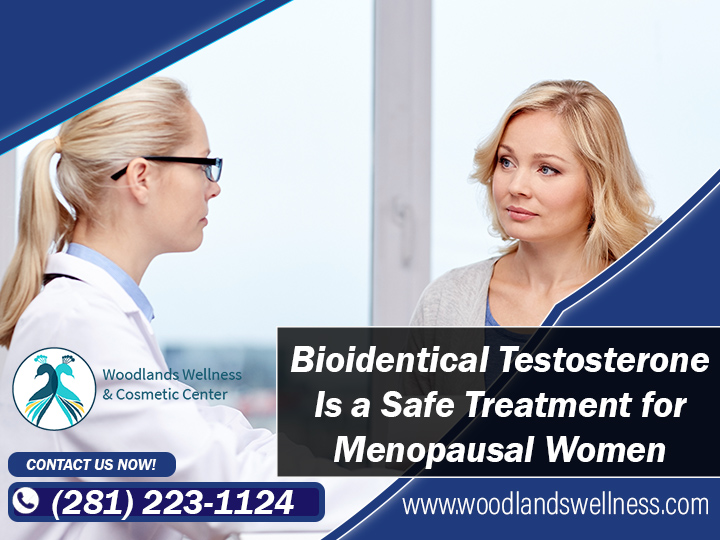 At Woodlands Wellness and Cosmetic Center, we understand that Bioidentical Hormone Replacement Therapy is the safest and most effective way to treat the hormone imbalances that occur as all women age.
While any doctor can write you a prescription for hormone replacement therapy, you should work with a clinic like Woodlands Wellness that specializes in age management and helping patients to look and feel their best at any age.
At Woodlands Wellness, we realize that not all women with age-related hormone loss will have the same set of symptoms or the same health and wellness goals.
We will tailor your program of bioidentical hormone therapy to your unique menopause symptoms and lifestyle to maximize your benefits and optimize your results.
Our medical director and the entire staff at Woodland Wellness are committed to making sure that all of our clients receive expert care from providers who specialize in regenerative and functional medicine.
This unique approach identifies and resolves underlying health problems that affect both body and mind. Functional medicine boosts overall wellness and addresses cosmetic concerns.
In addition to hormone replacement, clients at Woodlands Wellness and Cosmetic Center also have access to a full range of aesthetic treatments. The practice specializes in anti-aging services, including Botox®, injectables, body contouring, and skin tightening treatments.  Woodlands Wellness and Cosmetic Center also offers state-of-the-art procedures like CoolSculpting® to help clients achieve their aesthetic goals without surgery.
"I tried the hormone creams and skin patches, but nothing really was working for me. But, since I found out about the pellet hormone replacement that I am now using under Woodlands care, it has given me an energy boost that I could never have expected! My emotions are in control, and there are no more problems with hot flashes or night sweats. Using the hormone pellets is very convenient since I don't need to take any daily medications." Lisa G. Woodlands, TX.
If you would like to learn a little bit more about the many life-changing benefits of bioidentical hormone therapy, please contact us today by calling (281) 223-1124.