Everything You Want to Know About Liposuction
Today there is more than one kind of liposuction, and they all can deliver remarkable body shaping results.
Liposuction has sure come a long way over the years since it was first introduced, and it is still one of the most effective ways to achieve the shape you want when diet and exercise alone won't cut it.
Liposuction removes excess deposits of fat to sculpt an improved shape to match a patient's desires and fitness goals. While liposuction is best known as a fat removal procedure, it has now become part of a family of non-invasive and minimally invasive body contouring procedures to help a patient refine his or her shape.
Most people think that liposuction is a relatively modern medical miracle. Believe it or not, the first liposuction procedures were done way back in the 1920s! However, the French surgeon that came up with the idea did not have much success. One of his patients developed gangrene and died after the procedure, so his idea was pretty much dismissed until it could be performed much, much more safely and effectively decades later.
It wasn't until the late 1970s that liposuction, as we know it today, come into practical being. That was when  Arpad and Giorgio Fischer developed the blunt tunneling technique. This technique used rotating scalpels to break up fat, and then a tube was inserted to suction out the fat. It was the basis for modern liposuction.
Since then, through the 80s, 90s, and into today, liposuction procedures, equipment and techniques continued to evolve and improve. New devices which aid the physician in the removal of fat include handpieces that produce either oscillation of the cannula tip, laser, or ultrasound. The energies created by the handpieces help to break up and loosen the fat cells so that the surgeon can more efficiently remove the fat cells.
The surgeon is able to focus more on the "selection" of which cells to remove while he or she "sculpts" the contour of the patient rather than the work of liposuction. Thus the new terms liposelection, liposculpture, mini lipo, and tickle lipo emerged.
Another change or advancement in liposuction has to do with the cannulas used in the procedure. The canula are the tubes that are used to suck out and sculpt the fat.
Over the last number of years, the most important changes in cannula design have to do with the diameter of the tube. With the advances of the energy technologies mentioned above, practitioners now able to remove fat more effectively with smaller diameter tubes. This not only allows the surgeon to be more precise with his fat removal hand technique, but it also makes the entire liposuction procedure less invasive, so it is overall safer and can be with less scarring, less healing, and less recovery time.
What Everyone Needs to Know About Liposuction and Fat Removal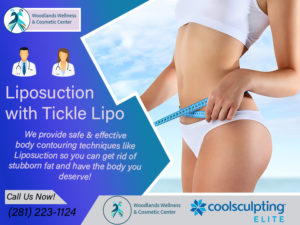 There is more than one kind of liposuction, and at Woodlands Wellness and Cosmetic Center, we often different liposuction procedures such as Mini Lipo and Tickle Lipo to help you achieve your body image goals.
Our clients receive expert care from providers who specialize in regenerative and functional medicine. Our unique approach identifies and resolves underlying health problems that affect both body and mind. Functional medicine boosts overall wellness and addresses cosmetic concerns.
Clients at Woodlands Wellness and Cosmetic Center also have access to a full range of aesthetic treatments. The practice specializes in antiaging services, including Botox®, injectables, chemical peels, and skin tightening treatments.
In addition to our advanced cosmetic techniques, we recognize how age-related hormone imbalances negatively impact the quality of life of men and women. We provide hormone replacement services for men and women who are dealing with age-related hormone decline in several treatments, including pellet therapy and hormone replacement therapy, helping our patients regain their energy and sexual vitality.
"My liposuction procedure at Woodlands exceeded all of my expectations. I feel better physically and emotionally. My husband says he noticed a huge difference. The staff were all so positive. They are an inspiration and make everyone who walks in feel good about themselves and what they can accomplish!" Amy R., Woodlands, Tx. 
If you would like to learn a little bit more about the many life-changing benefits of liposuction or any of our non-invasive body contouring treatments, please contact us today by calling (281) 223-1124.