Get ready to be blown away by the double chin removal available at Woodlands Wellness & Cosmetic Center.
Double Chin Removal for a Slimmer Face
A double chin or "submental fat" is nothing to be embarrassed about.
However, we usually are self-conscious when it comes to our "double chin." If your double chin bothers you, there are some things you can do to minimize its appearance.
Let's start by considering what might be causing the formation of a double chin. Our skin becomes less elastic as we age, allowing gravity to take advantage, possibly causing a double chin. Another factor is weight fluctuations.
Do you want a slimmer face but can't seem to achieve that regardless of how much weight you lose? Then maybe double chin removal by Woodlands Wellness & Cosmetic Center is for you.
How to Achieve a Slimmer Face
We just want to achieve a slimmer face. No matter how much you diet or exercise or how much weight you have lost, there are some problem areas of fat that you just can't seem to reduce.
Here are some tips on how to reduce the appearance of a double chin:
Lose weight with diet and exercise. Sometimes, weight fluctuations cause double chins. We recommend diets high in protein, fruits, vegetables, and fiber.

Lower your consumption of processed foods to help in fat loss. A high-intensity interval training (HIIT) also helps burn calories fast!

Avoid salt and sugar. Did you know that salty and sugary foods are culprits to weight gain and bloating? Foods high in salt and sugar cause your body to hold onto the fluids you eat and drink. This can make you feel bloated.

We suggest ditching highly processed foods with sugar and salt if you want to rapidly get rid of double chins. 

Get a lymphatic drainage facial massage. A facial massage is very relaxing and helps work products or serums into the skin. It's also great for circulation and helps to release congestion. Try kneading and punching your jawline.

Move with upward movements towards the earlobe, pinching and kneading with form movements. This effective facial massage strengthens the jaw and neck muscles, which can help with double chin removal.

Try daily facial yoga. Daily facial yoga may help to keep the chin area tight. We suggest doing simple chin exercises consistently every morning and evening every day.

Apply your skincare in an upward motion. Try applying your face serum and moisturizer to your neck using an upward sweeping motion.

If your usual product is formulated to increase collagen production, this might help. If you're already doing this and your double chin isn't improving, you should consider incorporating products specifically targeting this area. 

Use a gua sha face tool. A gua sha tool is used in facial therapies with a gliding technique. Similar to a lymphatic drainage facial massage, it promotes lymphatic drainage, which helps to eliminate bloating.

Use the gua sha tool on your jawline and under your chin by applying even strokes against your skin.
How Does Double Chin Removal in Woodlands Work?
If you're already doing what you can to reduce the appearance of a double chin, you may be looking for additional ways to help your jawline look its best. 
Woodlands Wellness & Cosmetic Center has developed a unique Double Chin Removal Protocol that combines three of our most effective body contouring techniques: CoolSculpting Elite, Skin Tightening with Renuvion, and Liposuction.
Learn More Here: Get An Instant Facelift with Juvederm in Woodlands
Using these body contouring techniques, you can target and eliminate that unsightly double chin.
Supplement Facial Massages with Double Chin Removal
CoolSculpting Elite – CoolSculpting Elite is an excellent procedure for double chin removal, as the C-shape cup applicators can perfectly fit under your chin.

A C-shaped cup allows for more tissue contact on the chin, more suction, more even cooling, and a shorter treatment time. This FDA-cleared system uses controlled cooling to target fat cells beneath your skin without surgery.

This body contouring technique targets double chin removal by gently freezing fat cells, which die and are naturally expelled from your body.

Skin Tightening with Renuvion – With Renuvion, you can remove your double chin using helium plasma and radiofrequency energy. Furthermore, Skin Tightening with Renuvion can also achieve dramatic skin tightening and lifting.

A minimally invasive cosmetic tool uses helium plasma energy to tighten the tissue deep within the skin. This removes the double chin effectively.

Furthermore, the gentle energy stimulates collagen production, which is responsible for your skin's strength and elasticity, resulting in a visible improvement in skin tightening over time.

Mini Lipo – In cases where patients seek a one-time treatment, submental liposuction using Mini Lipo is an option. Mini Lipo makes use of a tiny and thin "cannula." A small incision is created in a hidden skin crease beneath the chin during the procedure.

A small incision separates the skin from the fat, and a cannula removes the excess fat. At the Woodlands Wellness and Cosmetic Center, we create optimal, natural results by eliminating fat from the neck and the jawline.
Looking for Double Chin Removal in Woodlands?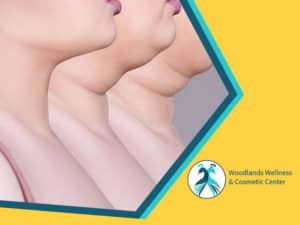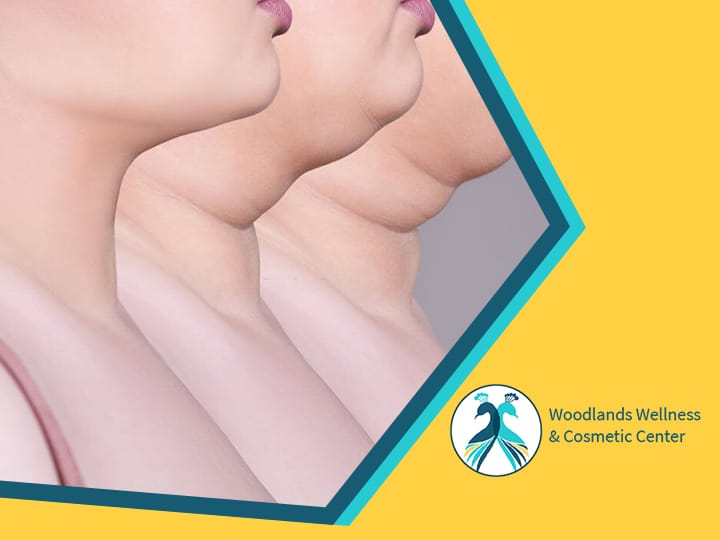 Woodlands Wellness & Cosmetic Center provides double chin removal in Woodlands, TX. It uses different effective body contouring techniques to target fat cells and remove that unsightly double chin. This will give you a slimmer and younger-looking face.
Located in The Woodlands, TX, Woodlands Wellness specializes in regenerative and functional medicine and aesthetic treatments. We are proud to offer the latest medical aesthetics and anti-aging treatments.
We provide tailor-fit programs to identify and resolve underlying health problems that affect the body and the mind. 
Contact us today at (281) 223-1124 for a complimentary consultation to learn more about double chin removal! We can help you choose the best treatment well-suited for your facial features and concerns.