Are you struggling to lose stubborn fat? Body contouring solutions are now available in Woodlands to help you achieve the body of your dreams.

You're probably one of those whose New Year's resolutions involve getting a beach-ready bod for the summer months.
After months of hard work, you're ready to show off your body! It's summer now, and it's not yielding the results you expected.
When it comes to stubborn areas of fat, strict diets and exercise regimes can only go so far. Liposuction may be your next best option. Here in Woodlands Wellness & Cosmetic Center, we offer non-surgical liposuction treatments that can eliminate stubborn pockets of fat, so you can flaunt the summer body you deserve!
The FDA-approved Tickle Lipo procedure, also known as Nutational Infrasonic Liposculpture (NIL), can remove fat more comfortably, safely, and effectively than traditional liposuction.
What is Tickle Lipo Liposuction, and How Does it Work?
Here at the Woodlands Wellness & Cosmetic Center, we offer a remarkable liposuction technique called Tickle Lipo. It's a new, less-invasive way to remove excess fat from targeted areas of the body using infrasonic technology.
We still use a cannula in advanced technology such as Tickle Lipo, but we break up the fat layer first with infrasonic vibrations. Loosening the fat cells makes it easier to remove them with less trauma to the body, resulting in smoother results with less recovery time.
This procedure removes excess fatty deposits without causing significant trauma to surrounding tissues. Using the proper technique and technology is essential for achieving this goal.
Learn More Here: Remove Stubborn Fat and Tone Your Body with Body Contouring in Woodlands
Although liposuction is minimally invasive, we still use local anesthesia to keep you comfortable during your treatment. Tickle Lipo Liposuction in Woodlands, TX, typically takes one to two hours, based on the size and amount of fat to be removed.
What Are The Benefits of Getting Liposuction?
Safe and Effective – The FDA has approved our Tickle Lipo procedure for fat removal and body sculpting.

Works on a Lot of Parts of the Body – By performing Tickle Lipo liposuction, you can target those stubborn fat deposits on nearly any area of the body! We can target fats on your upper and lower abdomen, arms, and under the buttocks, back, hips, and thighs!

Minimally Invasive Compared to Traditional Treatment – The Tickle Lipo procedure in Woodlands, TX, uses infrasonic technology to remove fat cells from various body areas.

Our Procedure is an Outpatient Procedure – There is little to no downtime afterward, so you can immediately return to your routine.

Less Pain and Shorter Recovery After the Treatment – We use local anesthesia during the procedure to make the experience more comfortable for you. Since no surgery is involved, there's a faster recovery than traditional procedures.

Results are Permanent – Removing fat deposits from the body during the procedure is permanent. Just make sure you maintain a healthy weight!
Is Getting Liposuction Safe?
Definitely, yes! Our procedure is safe and effective and has been approved by the FDA for fat removal and body sculpting. Compared to traditional procedures, Tickle Lipo is somewhat safer and more comfortable for patients.
Only trained professionals perform liposuction procedures at our Woodlands clinic, so there is minimal risk and possibility for side effects.
Am I a Good Candidate for Liposuction Here at Woodlands?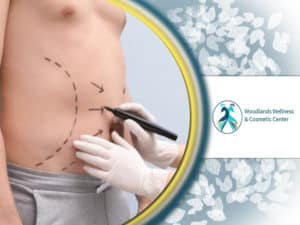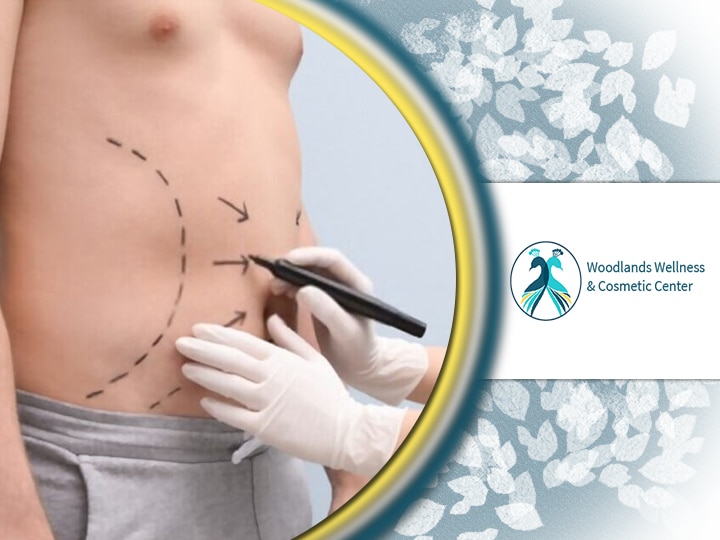 Any patient who is within a normal weight range for their age and height is eligible for liposuction in Woodlands, TX.
Our procedure is not a substitute for weight loss or obesity treatment.
Patients should also be healthy with well-controlled medical conditions if any since it is minimally invasive.
This procedure is for you if you have stubborn fat deposits in these areas: abdomen, hips, flanks, back, inner and outer thighs, and arms.
How Can I Get the Most Out of My Liposuction Procedure?
The procedure can be long-lasting if combined with a healthy lifestyle and diet. Here are some ways to maximize the effects of liposuction in Woodlands:
Stay hydrated.

It's summer, and what better way to beat dehydration than drinking water? Drinking water has been proven to aid in weight loss. Skip the sweetened drinks and sodas; these add extra calories to your diet. Coconut water and lemon water have less than 20 calories, while water has zero!

Fill your plate with summer veggies.

During the summer, vegetables are some of the best foods for weight loss! They're plentiful, low in fat and calories, yet filling! Make sure your refrigerator is stocked with salad greens, bell peppers, zucchini, carrots, eggplants, and asparagus.

Load up on fruits this summer.

Watermelons, cantaloupes, and honeydews are great, refreshing snacks during the hot days of summer. In addition to being delicious thirst quenchers, these melons are also low in calories, so they're great for maintaining your summer bod.

Refresh with yogurt and kombucha.

Your digestion tends to get troubled during the summers, which can hinder weight loss in a big way. Make sure you include a lot of probiotics in your diet to keep your digestive system healthy during the summer.
Be Ready for Summer with Liposuction in Woodlands.
Look and feel more confident this summer with the best liposuction in Woodlands Wellness & Cosmetic Center.
The Woodlands Wellness & Cosmetic Center specializes in functional and regenerative medicine and cosmetic procedures.
Functional medicine enhances overall wellness and addresses cosmetic concerns. The best way to live a healthy life is to identify and resolve underlying health concerns.
Learn more about how you can shed those unwanted fats this summer. Contact Woodlands Wellness & Cosmetic Center at (281) 362-0014 for a complimentary consultation.