What Kind of Results Can I Expect From Coolsculpting?
CoolSculpting is a body contouring technique that can provide satisfying and long-lasting results.
If you have stubborn fat that you just cannot seem to get rid of despite dieting and exercise, CoolSculpting may be just what you are looking for.
CoolSculpting® uses "cold energy" to "freeze" fat cells and break down the cell walls. Then, the CoolSculpting device gently breaks up the fat cells, and your body eliminates them naturally over the weeks that follow. CoolSculpting cools your skin, creating a natural numbing sensation that helps you stay comfortable during treatment.
CoolSculpting®  is an FDA-cleared system that uses nonsurgical, mostly pain-free, controlled cooling to target fat cells beneath your skin. Your fat cells gently freeze and die. Once that happens, your body will naturally eliminate the dead cells in 1-3 months or more, resulting in up to 20%-25% reduction of fat in a treated area. CoolSculpting's fat-freezing technology provides long-term results that will have you smiling when you look in the mirror.
What Kind of Results Can I Expect From CoolSculpting?
The great thing about body sculpting techniques like CoolSculpting is that you can expect your results to last for quite a long time. It all depends on you.
Once the fat cells are destroyed by CoolSculpting, they cannot "grow back," but you can still gain weight if you do not change your habits. But, after the treatment, if you stick to a healthy diet and exercise, the results of CoolSculpting can last for years!
After your CoolSculpting® treatment, your body naturally processes and eliminates the dead fat cells in the treated area!
After a CoolSculpting® treatment, patients can expect up to 20%-25% reduction of fat in the treated area, but it is important to remember that CoolSculpting® is NOT a weight-loss procedure.
You will likely be pleased with your results from CoolSculpting. However, keep in mind that, like all body contouring techniques, CoolSculpting is not designed for "weight loss" but is a nonsurgical way of reducing the fat in those stubborn areas that may be resistant to diet and exercise.
As to how soon you can expect to see results from CoolSculpting, many patients see a difference in as little as one to three months after treatment. You may decide on several CoolSculpting sessions in multiple areas to reach your body aesthetic goals.
Can You Combine CoolSculpting With Other Body Contouring Procedures!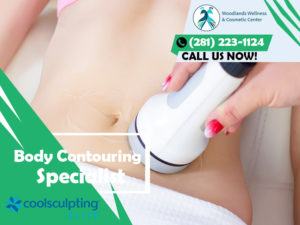 Yes! In fact, we encourage our patients to "mix and match" body contouring and skin tightening treatments to help them achieve the optimal look!
This is especially true because somebody contouring techniques such as CoolSculpting are good for some areas – such as the chin, neck, and stomach — and others target different specific areas such as the arms, hips, and thighs.
Your doctor will work with you to choose a selection of body contouring treatments to help you reach your ideal appearance goals.
What Everyone Needs to Know About Noninvasive Body Contouring and Fat Removal
Woodlands Wellness and Cosmetic Center offers state-of-the-art procedures like CoolSculpting® to help clients achieve their aesthetic goals without surgery.
At Woodlands Wellness and Cosmetic Center, our clients receive expert care from providers who specialize in regenerative and functional medicine. Our unique approach identifies and resolves underlying health problems that affect both body and mind. Functional medicine boosts overall wellness and addresses cosmetic concerns.
Clients at Woodlands Wellness and Cosmetic Center also have access to a full range of aesthetic treatments. The practice specializes in antiaging services, including Botox®, injectables, chemical peels, and skin tightening treatments.
In addition to our advanced cosmetic techniques, we recognize how age-related hormone imbalances negatively impact the quality of life of men and women. We provide hormone replacement services for men and women who are dealing with age-related hormone decline in several treatments, including pellet therapy and hormone replacement therapy, helping our patients regain their energy and sexual vitality.
"I eat well and go to the gym regularly. But I am pushing 50, and while I would say I am generally in good shape, it seems that no matter how hard I work out, I am just softer around the middle than I would like to be. But since having CoolSculpting, I like what I see in the mirror!"  – Jim J., Houston, TX
If you would like to learn a little bit more about the many benefits of CoolSculpting or any of our cosmetic treatments, please contact us today by calling (281) 223-1124.