What Is the Link Between the Coronavirus Pandemic and the Increased Popularity of Body Contouring and other Cosmetic Procedures?
Ever since the COVID-19 pandemic, there has been a marked increase in demand for liposuction and other cosmetic procedures.
Is its because people have been working from home and want to look good on those zoom calls and teleconferences?
Or maybe it's the boredom and anxiety and the need for change caused by quarantine – or wanting to get rid of those extra pounds that many of us packed on. But whatever it is – ever since the pandemic, there has been a major increase in demand for liposuction and other cosmetic procedures.
According to the American Society of Plastic Surgeons (ASPS), during the pandemic, 11% of women surveyed indicated they are more interested in cosmetic plastic surgery or non-surgical procedures now than before COVID-19, and the figure is even higher among women who have already had surgery or a procedure – 24%, respectively.
Also, 35% of women who have previously had at least one cosmetic surgical procedure or minimally invasive procedure plan to spend significantly or somewhat more on treatments in 2021 than in 2020.
"For more than a year, COVID-19 has largely confined people to their homes during quarantine and significantly impacted nearly every aspect of their lives," says Lynn Jeffers, MD, MBA, FACS. "The pandemic isn't over, but thanks to vaccines, a new normal is starting to define itself – and some surgeons' offices that were closed or offered only limited services within the last year are seeing higher demand."
While the first wave of pandemic demand saw a rush on facial procedures in response to a significant surge in Zoom calls and downtime for discreet recovery at home, the national survey results show that tummy tucks (22%) and liposuction (17%) are among the top procedures that women who are extremely or very likely to consider procedures within six months are seeking.
ASPS says that the reason is attributed to weight fluctuation during quarantine and more time to consider procedures long-delayed due to time or cost.
What Everyone Needs to Know About Liposuction and Fat Removal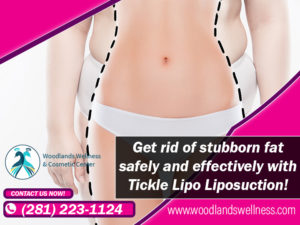 If you are one of those that are considering liposuction as you emerge from your COVID quarantine cocoon, you need to know that you have many more lipo options today than ever before!
There is more than one kind of liposuction. At Woodlands Wellness and Cosmetic Center, we often use different liposuction procedures, such as Mini Lipo and Tickle Lipo, to help you achieve your body image goals.
Our clients receive expert care from providers who specialize in regenerative and functional medicine. Our unique approach identifies and resolves underlying health problems that affect both body and mind. Functional medicine boosts overall wellness and addresses cosmetic concerns.
Clients at Woodlands Wellness and Cosmetic Center also have access to a full range of aesthetic treatments. The practice specializes in antiaging services, including Botox®, injectables, chemical peels, and skin tightening treatments.
In addition to our advanced cosmetic techniques, we recognize how age-related hormone imbalances negatively impact the quality of life of men and women. We provide hormone replacement services for men and women who are dealing with age-related hormone decline in several treatments, including pellet therapy and hormone replacement therapy, helping our patients regain their energy and sexual vitality.
"My liposuction procedure at Woodlands was truly amazing! I only just had my mini-lipo, and after a year in isolation, I feel so much better about myself, and I am ready to get back out in the world again, with a new look and healthier attitude!

Robin. W, Woodlands, Tx.
If you would like to learn a little bit more about the many life-changing benefits of liposuction or any of our non-invasive body contouring treatments, please contact us today by calling (281) 223-1124.