You Can Get Remarkable Facelift Results Without Surgery!
A nonsurgical facelift is a remarkable way to tighten and rejuvenate skin and make you look years younger without dangerous and invasive surgery.
A nonsurgical facelift uses one or more minimally invasive and nonsurgical procedures that are designed to rejuvenate and refresh the appearance of creepy or sagging skin. Compared with a surgical facelift, these techniques do not require large incisions, general anesthesia, or overnight hospitalization.
A noninvasive facelift can get you in and out of the doctor's office quickly, with little post-op discomfort and minimal downtime. Even though you will not "go under the knife," the antiaging results from a nonsurgical facelift are remarkable.
As opposed to traditional surgical facelifts, a nonsurgical facelift is:
Noninvasive
All-natural
Has few if any side effects
Requires little or no downtime
Performed the same day
In addition, with a noninvasive facelift, you can expect:
A rapid recovery time
No scarring whatsoever
An almost immediate more youthful "glow" to your skin
Smoother looking skin
Increased production of collagen and stem cells over time, resulting in firmer, more youthful-looking skin
Results that can last from 9-18 months
What Are the Best Techniques for Nonsurgical Facelifts?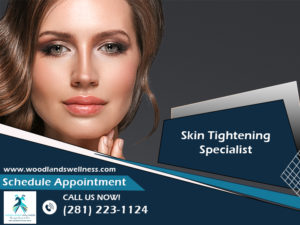 Nonsurgical facelift procedures are aimed at tightening your sagging and creepy skin to improve appearance.
Two of the most effective and popular techniques of nonsurgical skin tightening are the Vampire Facelift® and Renuvion®.
The Vampire Facelift is one of the most popular noninvasive, nonsurgical aesthetic procedures in use today. It has been used and endorsed by several of Hollywood's "A-list" celebrities to look stunningly younger.
As we age, a decrease in the production of collagen and elastin leads to saggy and creepy skin that makes you look older than you feel. The secret to the Vampire Lift is that it uses the stem cells and healing factors in your own blood to revitalize and rejuvenate loose and wrinkled skin. Platelet-rich plasma (PRP) derived from your own blood is mixed with all-natural dermal fillers and then injected under the skin. The dermal filler adds body and allows your physician to sculpt a beautiful and more youthful shape on the spot. Then, over time the growth factors within the PRP stimulate the production of collagen deep below the surface, which grows new tissue that provides smoother, younger, and healthier-looking skin.
Renuvion is another advanced aesthetic tool that combines the unique properties of helium plasma with the efficiency of radiofrequency energy to dramatically lift and tighten your skin.
The minimally invasive cosmetic tool passes helium plasma energy into the deep layers of your skin, which causes an immediate tightening of the tissue. The gentle energy also stimulates the production of collagen, the protein in your skin responsible for strength and elasticity, which continues to improve the skin tightening over the ensuing months.
Both the Vampire Facelift and Renuvion offer long-lasting and noticeable results without any of the downtime and possible risks associated with traditional surgical facelifts.
What Everyone Needs to Know About Noninvasive Facelifts  
Woodlands Wellness and Cosmetic Center offers state-of-the-art procedures like Renuvion and the Vampire Facelift to help clients achieve their aesthetic goals without surgery.
At Woodlands Wellness and Cosmetic Center, our clients receive expert care from providers who specialize in regenerative and functional medicine. Our unique approach identifies and resolves underlying health problems that affect both body and mind. Functional medicine boosts overall wellness and addresses cosmetic concerns.
Clients at Woodlands Wellness and Cosmetic Center also have access to a full range of aesthetic treatments. The practice specializes in antiaging services, including Botox®, injectables, chemical peels, and skin tightening treatments.
In addition to our advanced cosmetic techniques, we recognize how age-related hormone imbalances negatively impact the quality of life of men and women. We provide hormone replacement services for men and women who are dealing with age-related hormone decline in several treatments, including pellet therapy and hormone replacement therapy, helping our patients regain their energy and sexual vitality.
"You might think that skin tightening is only for women, but I hated my saggy cheeks and jowls. I stay fit, but my face was making me look much older than I feel. Since having a treatment at Woodlands, I feel great, and it totally changed my life. I feel better about myself whenever I am meeting with clients or out with friends. Everyone says I look years younger, and my social life has never been better!" – Alan F., Pinehurst, TX.
If you would like to learn a little bit more about the many life-changing benefits of noninvasive body contouring or any of our hormone replacement or cosmetic treatments, please contact us today by calling (281) 223-1124.