Is Coolsculpting Safe?
CoolSculpting is a remarkable way to remove layers of fat and make you look significantly thinner without dangerous and invasive surgery.
Many people ask if CoolSculpting is safe. The U.S. Food and Drug Administration has certified CoolSculpting as a safe medical treatment.
CoolSculpting has many benefits over traditional liposuction. It's nonsurgical, noninvasive, and requires no recovery time. And it's effective in reducing fat cells in a given treatment area by up to 20 to 25 percent.
The technical term of CoolSculpting is cryolipolysis. It is a medical procedure that helps get rid of excess fat cells underneath your skin. While CoolSculpting is generally regarded as a safe and effective way to remove stubborn fat, like all medical procedures, it is not entirely risk-free.
There are some possible, though rare, side effects to the procedure. Some of the common potential side effects of CoolSculpting include:
A slight tugging sensation during the process
A feeling of intense cold
Soreness
Swelling
There are people with certain medical conditions who should not have CoolSculpting. People with the following rare medical conditions should not have CoolSculpting, because, in such patients, the procedure could cause severe complications. Each of these conditions is triggered in some way by cold.
Cryoglobulinemia – A condition that causes clumps of proteins to form in the blood, impeding blood flow. The cold of CoolSculpting can cause more of these clumps to form.

Cold agglutinin disease – Cold agglutinin disease (CAD) is a condition that makes your body's immune system attack your red blood cells and destroy them.

It's triggered by cold temperatures, so, CoolSculpting can cause an autoimmune response n patients with this condition.

Paroxysmal cold hemoglobinuria – Paroxysmal cold hemoglobinuria (PCH) is a rare type of anemia characterized by the premature destruction of healthy red blood cells by autoantibodies. It, too, is triggered by cold.
Other than for people with the above conditions, CoolSculpting is a safe and simple procedure. And remember, any of the side effects mentioned are only potential risks with CoolSculpting. Any of these potential side effects of CoolSculpting are exceedingly rare.
The vast majority of CoolSculpting patients go through the procedure with no discomfort whatsoever. In fact, most of them either drive themselves home or return to work right after the simple, in-office procedure.
You can mitigate the risk of any possible side effects of CoolSculpting by working with a facility like ours that is well-versed in the procedures. Our doctors have performed thousands of CoolSculpting and other body contouring procedures and have a proven track record of success.
What Is CoolSculpting?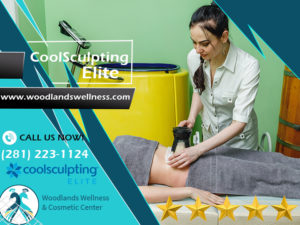 CoolSculpting® uses "cold energy" to "freeze" fat cells and break down the cell walls.
Then, the CoolSculpting device gently breaks up the fat cells, and your body eliminates them naturally over the weeks that follow.
CoolSculpting cools your skin, creating a natural numbing sensation that helps you stay comfortable during treatment. CoolSculpting®  is an FDA-cleared system that uses nonsurgical, mostly pain-free, controlled cooling to target fat cells beneath your skin. Your fat cells gently freeze and die.
Once that happens, your body will naturally eliminate the dead cells in 1-3 months or more, resulting in up to 20%-25% reduction of fat in a treated area. CoolSculpting's fat-freezing technology provides long-term results that will have you smiling when you look in the mirror.
Like all non-surgical fat removal techniques, CoolSculpting is designed to target those stubborn areas that hold on to fat, including:
CoolSculpting requires little or no downtime. Most patients simply go about their daily routine after the procedure. Of course, like any cosmetic or aesthetic procedure, individual results may vary.
Studies have shown that cryolipolysis is safe and effective. The risks are few and rare. In otherwise healthy adults, there is little or no chance of damage to your liver or other major organs. Serious side effects are rare; mild side effects, if any, go away after a short time.
The bottom line is if you are the right fit for it, CoolSculpting is not only safe and largely risk-free, but it also has several major advantages over other fat-elimination procedures. Fat cells frozen by CoolSculpting never return because the body eliminates them.
There are no incisions because it's a noninvasive procedure, and there's no scarring after treatment. There's also no required rest or recovery time, and results begin to show in as little as a few weeks.
What Everyone Needs to Know About Noninvasive Body Contouring and Fat Removal
Woodlands Wellness and Cosmetic Center offer state-of-the-art procedures like CoolSculpting® to help clients achieve their aesthetic goals without surgery.
At Woodlands Wellness and Cosmetic Center, our clients receive expert care from providers who specialize in regenerative and functional medicine. Our unique approach identifies and resolves underlying health problems that affect both body and mind.
Functional medicine boosts overall wellness and addresses cosmetic concerns. Clients at Woodlands Wellness and Cosmetic Center also have access to a full range of aesthetic treatments. The practice specializes in antiaging services, including Botox®, injectables, chemical peels, and skin tightening treatments.
In addition to our advanced cosmetic techniques, we recognize how age-related hormone imbalances negatively impact the quality of life of men and women.
We provide hormone replacement services for men and women who are dealing with age-related hormone decline in several treatments, including pellet therapy and hormone replacement therapy, helping our patients regain their energy and sexual vitality.
"I'll tell you what, after having three kids, I had stubborn belly fat I could not get rid of. Even though I tried to eat right and regularly, my 'pooch belly' didn't budge. Coolsculpting helped me achieve the results I was looking for! The procedure was completely painless, I went right home after. Even my husband of nearly 30 years noticed the difference. For anyone considering CoolSculpting, I only have two words for them -IT WORKS!!"

– Traci K., Woodlands, TX
If you would like to learn a little bit more about the many life-changing benefits of  CoolSculpting or any of our body contouring or cosmetic treatments, please contact us today by calling (281) 223-1124.