How Body Sculpting Can Give You the Fit Look You Want!
Body contouring is a remarkable way to get the toned and fit look that you want.
If you are on a weight loss and exercise program and are still not getting that exact fit and toned look you desire, body contouring may be just what you are looking for to provide those final finishing touches.
You do not have to look at the idea of body contouring as a "cop-out" or shortcut. Doctors know that you can work hard at achieving your fitness goals, but that sometimes -especially once you reach a certain age—diet and exercise are not enough.
There are just some stubborn areas of fat that you just cannot seem to get rid of, no matter how hard your try. It is not giving up or giving in by using a body contouring technique. Think of it rather as rewarding yourself for your hard work and finally getting the body of your desire!
That is the purpose of the many-body contouring techniques we have available today. Body contouring is not designed to help you lose weight but to help you to take that last step in achieving the fit, attractive body shape you want.
The best thing is that many of the more recently introduced forms of body contouring or "body sculpting" are completely noninvasive or are minimally invasive. This means they are safe, relatively pain-free, and can be done with little or no downtime.
The best candidates for this kind of noninvasive or minimally invasive body sculpting techniques are those men and women who are very close to achieving their fitness and weight loss goals and just need "a little something extra" to get them there.
One of the most popular and effective forms of body contouring is
Mini Lipo
.
What Is Mini Lipo?
Mini Lipo is a liposuction procedure. However, unlike traditional liposuction that is designed to remove significant amounts of fat from large areas of the body, the "cannula" used in Mini Lipo is very small and thin. The cannula is the tube that's used to remove fat from your body. When we do liposuction that involves a large amount of fat removal, we generally use a cannula with a wider diameter to accommodate more volume. Since the cannula used for mini liposuction is quite small, this also generally leads to a shorter recovery time and minimal bruising.
Rather than removing large amounts of fat resulting in significant weight loss, Mini Lipo is designed to sculpt or contour problem areas such as the neck, chin, and arms.
Mini Lipo helps you target those stubborn areas that hold on to fat, including: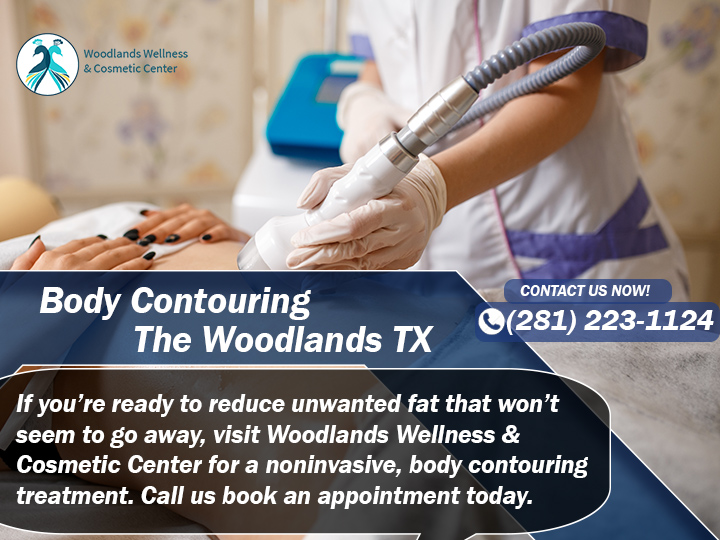 Chin
Chest/Bra rolls
Upper and Lower Arms
Knees
Outer thighs
Hips
Love handles
Calves and ankles
 What Everyone Needs to Know About Body Contouring and Fat Removal With Mini Lipo
Woodlands Wellness and Cosmetic Center offers state-of-the-art procedures like Mini Lipo to help clients achieve their aesthetic goals without surgery.
At Woodlands Wellness and Cosmetic Center, our clients receive expert care from providers who specialize in regenerative and functional medicine.
Our unique approach identifies and resolves underlying health problems that affect both body and mind. Functional medicine boosts overall wellness and addresses cosmetic concerns.
Clients at Woodlands Wellness and Cosmetic Center also have access to a full range of aesthetic treatments.
The practice specializes in antiaging services, including Botox®, injectables, chemical peels, and skin tightening treatments.
In addition to our advanced cosmetic techniques, we recognize how age-related hormone imbalances negatively impact the quality of life of men and women. We provide hormone replacement services for men and women who are dealing with age-related hormone decline in several treatments, including pellet therapy and hormone replacement therapy, helping our patients regain their energy and sexual vitality.
"I had Mini Lipo on my stomach and thighs a few years ago. The doctor and his staff at Woodlands are friendly, caring, professional, and very knowledgeable. I was and still am very satisfied with the procedure. I had minimal pain, a fast recovery, and no problems after. I was so satisfied that last year I went back for a noninvasive facelift and double chin removal, and again, I couldn't be happier with the results!" – Kim. B,  Conroe, TX
If you would like to learn a little bit more about the many life-changing benefits of noninvasive body contouring or any of our hormone replacement or cosmetic treatments, please contact us today by calling (281) 223-1124.