Look Thinner and Fitter With Noninvasive Fat Removal!
Body contouring is a remarkable way to remove layers of fat and make you look significantly thinner without dangerous and invasive surgery.
Noninvasive fat removal is a safe, effective way to get rid of stubborn areas of fat without surgery.
At Woodlands Wellness and Cosmetic Center, we use state-of-the-art body contouring systems that have been designed to help men and women slim down and achieve their fitness goals by safely and non-surgically removing stubborn fat.
If you have stubborn fat that you just cannot seem to get rid of despite dieting and exercise, it used to be that your only option to remove that fat was invasive surgical techniques such as liposuction.
These techniques work, but they are surgical procedures, and, like all surgical procedures, they have associated risks. Today patients have another option. It is known as "nonsurgical body contouring" or "nonsurgical fat reduction."
These procedures have been designed to reduce or remove stubborn layers of fat to literally contour or sculpt and reshape different areas of the body that have been resistant to fat loss. Most nonsurgical fat reduction treatments are based on one of these four principles:
Cryolipolysis, or controlled cooling, uses freezing temperatures to target and destroy fat cells.
Laser lipolysis, which is the opposite technique, uses controlled heating and laser frequencies to target fat cells.
Radiofrequency lipolysis is similar to laser lipolysis, but instead of "melting" fat cells with laser energy, it uses ultrasound technology to target fat cells.
Injection lipolysis, which uses injectable deoxycholic acid to target fat cells.
These techniques of noninvasive body contouring are not intended to be a weight loss solution but to help you get rid of stubborn pockets of fat that have been resistant to diet and exercise.
The ideal candidates for nonsurgical body contouring are those who are close to their ideal body weight but just can't take off those extra pounds in the belly, thighs, hips, and buttocks or those who need to put a little extra finishing touch on a diet and exercise program.
One of the most popular and effective forms of noninvasive fat removal is cryolipolysis via CoolSculpting®.
What Is CoolSculpting?
CoolSculpting® uses "cold energy" to "freeze" fat cells and break down the cell walls. Then, the CoolSculpting device gently breaks up the fat cells, and your body eliminates them naturally over the weeks that follow.
CoolSculpting cools your skin, creating a natural numbing sensation that helps you stay comfortable during treatment. CoolSculpting®  is an FDA-cleared system that uses nonsurgical, mostly pain-free, controlled cooling to target fat cells beneath your skin. Your fat cells gently freeze and die.
Once that happens, your body will naturally eliminate the dead cells in 1-3 months or more, resulting in up to 20%-25% reduction of fat in a treated area. CoolSculpting's fat-freezing technology provides long-term results that will have you smiling when you look in the mirror.
Like all non-surgical fat removal techniques, CoolSculpting is designed to target those stubborn areas that hold on to fat, including:
Under your chin
Neck
Upper and lower abdomen/stomach
Back
Hips
Thighs
Upper arms
Under your buttocks
CoolSculpting requires little or no downtime. Most patients simply go about their daily routine after the procedure. Of course, like any cosmetic or aesthetic procedure, individual results may vary.
What Everyone Needs to Know About Noninvasive Body Contouring and Fat Removal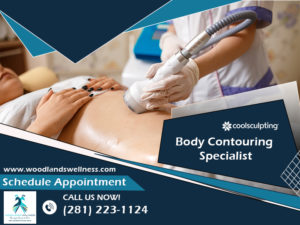 Woodlands Wellness and Cosmetic Center offers state-of-the-art procedures like CoolSculpting® to help clients achieve their aesthetic goals without surgery
At Woodlands Wellness and Cosmetic Center, our clients receive expert care from providers who specialize in regenerative and functional medicine. Our unique approach identifies and resolves underlying health problems that affect both body and mind. Functional medicine boosts overall wellness and addresses cosmetic concerns.
Clients at Woodlands Wellness and Cosmetic Center also have access to a full range of aesthetic treatments. The practice specializes in antiaging services, including Botox®, injectables, chemical peels, and skin tightening treatments. In addition to our advanced cosmetic techniques, we recognize how age-related hormone imbalances negatively impact the quality of life of men and women.
We provide hormone replacement services for men and women who are dealing with age-related hormone decline in several treatments, including pellet therapy and hormone replacement therapy, helping our patients regain their energy and sexual vitality.
"I eat well and exercise regularly but being over 40 and two kids later, it seems that no matter how much a workout, I just can't get rid of the belly and the love handles! But since having Coolsculpting they are gone! And I like who I see in the mirror!"

– Kari T., Klein, TX
If you would like to learn a little bit more about the many life-changing benefits of noninvasive body contouring or any of our hormone replacement or cosmetic treatments, please contact us today by calling (281) 223-1124.