Look and feel your best this summer with CoolSculpting in Woodlands, TX!
What's not to love about summer? Summer means longer days, outdoor workouts, BBQs, frozen cocktails, fruit shakes, and some well-deserved time away from work.
We also want to look and feel our best during summer!
However, it's a struggle to keep up with our fitness routines and diet once summer arrives.
It's especially demotivating if you're not completely satisfied with your body goals. Here are tips to stay in shape during the hot summer days in Woodlands, TX!
You can also try Woodland Wellness & Cosmetic Center's amazing CoolSculpting body contouring procedure, so you can flaunt the summer body you deserve.
CoolSculpting is a non-surgical body contouring treatment perfect for summer here in Woodlands. It works by freezing fat cells, so you can have the body you desire.
Proven Ways to Stay in Shape
Instead of removing things you love, focus on what you can do more often. Yes, you can still get that chocolate milkshake; just make sure to add more steps to your routine by walking instead of driving your car.
Here are simple ways you can do this summer (and probably all-year round) to stay your strongest and slimmest self!
Start with ice-cold water in the morning.

Ditch your morning coffee. It's best to start your day with ice-cold water, especially during the hot summer days. Hydrating with water is essential for our bodies, so make sure you have a few glasses of water in the morning to jumpstart your day!

Drinking water in the morning boosts your metabolism, flushes out toxins, promotes weight loss, and helps you burn more calories during the day.

You can add a few slices of lemon to your water. It has incredible benefits in weight loss and digestion! Lemon also has natural antioxidants and antibacterial properties to help against infections during the summer.

Stay hydrated this summer.

Technically, frappuccinos can hydrate and quench your thirst on a hot summer day. But it has too many empty calories we don't need.

Aside from chugging on plain water, there are various ways to stay hydrated this summer. Choose coconut water over sweetened fruit juice; coconut water has fewer calories.

Eating fruits with high water content is a great way to refresh and hydrate this summer. Fruits are lower in calories but high in fiber, so you know you can stay in shape even if you eat a lot of them.

Eat healthy, balanced meals.

Exercising may help you build the body of your dreams, but eating nutritious meals matters more when it comes to getting in shape and staying healthy. Physical activity and eating healthy foods can help you stay in shape this summer and feel better about yourself.

Make sure to eat whole-grain cereals or oats for breakfast so you have some healthy carbohydrates to give you energy for the day. Add a banana, an apple, or a few berries; these fruits are packed with helpful nutrients and are easily digested by the body.

For meal times, it's best to get protein from a lean source, like grilled chicken, turkey, or seafood. Protein is important for muscle repair and blood cell production; they're also filling, so you can power through the day well.

Practice swimming.

Summer means spending more time outdoors. Head to your local swimming pool for a complete workout, also known as swimming!

Swimming is one of the complete exercises you can do. It works every single muscle in your body against the resistance of the water. Swimming is not just for summer; it's a tremendous all-year-round activity as well.
Supplement Your Lifestyle with CoolSculpting
There's a cool way to eliminate stubborn fat this summer. Here at Woodlands Wellness & Cosmetic Center, we offer CoolSculpting, a revolutionary, FDA-cleared treatment for visible fat bulges in different areas of the body!
It literally is a cool way to contour your body safely and effectively.
This body contouring treatment works by applying controlled cooling to target unwanted fat cells beneath your skin while leaving the surface skin unaffected. The fat cells gently freeze and die and are flushed out of the body via natural processes.
Learn More Here: Get in Shape for Summer with Liposuction in Woodlands
CoolSculpting is perfect for areas with stubborn fat. It uses a C-shape cup applicator to allow contact to a larger surface area, more suction, a more even cooling result, and faster treatment times.
The cryolipolysis technology suctions the target treatment area, then deep-freezes the fat cells underneath. With these body contouring treatments, you can say goodbye to love handles, bra fat, and extra fat under your chin and jawline. This summer, you're ultimately ready to stay and maintain your shape!
CoolSculpting is an excellent body contouring treatment here in Woodlands, TX. It will give you a fat reduction of 20% to 25% even after just one session!
Be Ready for Summer with CoolSculpting in Woodlands.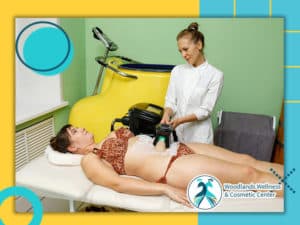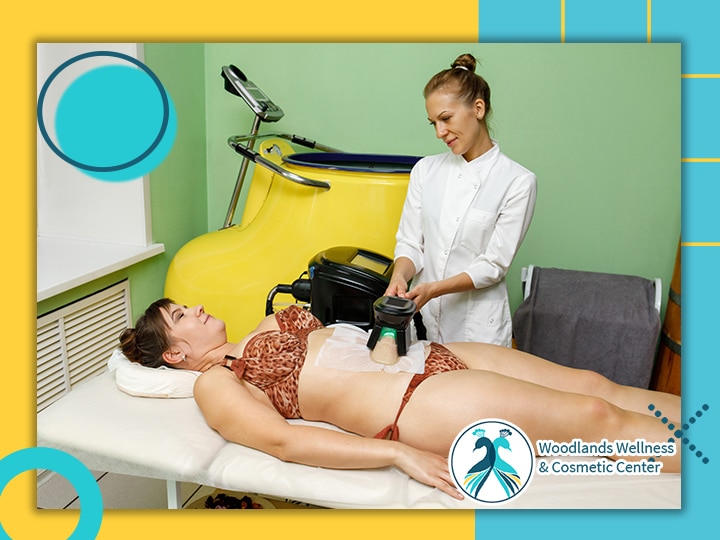 Look and feel more confident this summer with CoolSculpting in Woodlands Wellness & Cosmetic Center.
The Woodlands Wellness & Cosmetic Center specializes in functional and regenerative medicine and cosmetic procedures.
Functional medicine enhances overall wellness and addresses cosmetic concerns. The best way to live a healthy life is to identify and resolve underlying health concerns.
Learn more about how you can shed those unwanted fats this summer. Contact Woodlands Wellness & Cosmetic Center at (281) 362-0014 for a complimentary consultation.