A Team of Researchers Has Discovered a Link Between Generosity in Men and Their Testosterone Levels
A newly released scientific study says that your testosterone level could impact your degree of selfishness or generosity.
In their paper published in Proceedings of the National Academy of Sciences, a group of Chinese researchers describes the experiments they conducted with male volunteers and what they learned about the impact of testosterone levels in men.
Testosterone levels have long been linked to various mental states and brain functions. Previous studies have found a link between a man's testosterone level and various emotional states, from his sense of competitiveness to feelings of romance and nurturing.
In this latest study, the researchers wondered if heightened levels of testosterone might have an impact on a man's sense of generosity or selfishness. To find out, the researchers enlisted the assistance of 70 male volunteers between the ages of 18 and 25.
The experiment began by separating the volunteers into two groups—both had a gel rubbed into their upper arms and shoulders. For one group, the gel contained 150 milligrams of testosterone; the other group got a placebo.
They then tested the levels of the participants' generosity by first establishing levels of "social distance" among themselves and people they felt close to. They were then given a sum of money. The researchers then asked all of the participants whom they would or would not share the money with.
They found that the men who had their testosterone levels artificially increased were less likely to split the money, even with people they had identified as being the "most close to."  Brain mapping MRIs used during the study also showed decreased activity in the areas of the brain most associated with generosity in the testosterone group.
Testosterone and Emotional Health
While this is the first study of its kind to draw a link between testosterone and feelings of generosity, medical researchers have known for a long time that there is a definite link between testosterone and other emotional states, such as anxiety and depression.
Testosterone is critical in many ways for physical wellbeing. Testosterone is necessary to build muscle, burn fat, keep your bones healthy, and regulate and stimulate many other physical processes. Testosterone also plays a vital role in maintaining emotional health in men and women.
Specifically, current research has shown a definitive link between low levels of testosterone and increased depression and anxiety. A 2016 study published in the journal, Psychoneuroendocrinology found that in older men,
"low serum testosterone was associated with an 86% increased hazard of depression."
This study echoed earlier research, which found a strong link between low testosterone, depression, anxiety, and other emotional issues in both men and women.
While this recent Chinese study is interesting in that it seems to build on previous studies that gave indicated high or above normal levels of testosterone can impact selfishness, narcissism, or other negative social behaviors in males, we should be more concerned with what we know about low testosterone and how it impacts depression and anxiety.
What Every Man Needs to Know Low Testosterone and Testosterone Replacement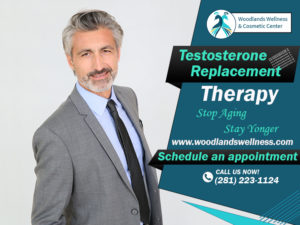 As medical professionals, we do not like to say that imbalances in hormones like testosterone are a definitive "cause" of depression, but there is a wealth of scientific data that indicates testosterone is one of many hormones that influence mood and emotional states.
The brain imaging data in the testosterone generosity study is further evidence of that.
There is even something now that doctors refer to as "Irritable male syndrome." Similar to "PMS" in women, the irritable male syndrome is related to hormones, in this case, low levels of testosterone.
Irritable male syndrome not only shares similarities with PMS, but it also shares the hormonally caused mood swings and depression typical of menopause. This is why it is also referred to as andropause or "male menopause."
But, no matter what you call it, the condition involves a drop in testosterone production that becomes more dramatic in men over the age of 45.
It doesn't matter if you call it "irritable male syndrome" or "low testosterone," doctors treat age-related testosterone deficiency with testosterone replacement therapy.
Prescription testosterone replacement therapy for men is available via injection, topical creams or gels, skin patches, subdermal pellets, or oral medication. Most doctors agree that testosterone injections are the safest and most effective form of testosterone therapy.
Testosterone replacement therapy is only available with a doctor's prescription. You cannot buy testosterone online or anywhere without a doctor's prescription. While any doctor can write you a prescription for testosterone replacement therapy, you should work with a clinic like Woodlands Wellness that specializes in age-management and helping patients to look and feel their best at any age.
At Woodlands Wellness, we realize that not all men with age-related hormone loss will have the same set of symptoms or the same health and wellness goals. We will tailor your program of testosterone therapy to your unique needs and lifestyle to maximize your benefits and optimize your results.
Our medical director and the entire staff at Woodland Wellness are committed to making sure that all of our clients receive expert care from providers who specialize in regenerative and functional medicine. This unique approach identifies and resolves underlying health problems that affect both body and mind. Functional medicine boosts overall wellness and addresses cosmetic concerns.
In addition to hormone replacement, clients at Woodlands Wellness and Cosmetic Center also have access to a full range of aesthetic treatments. The practice specializes in anti-aging services, including Botox®, injectables, chemical peels, and skin tightening treatments.  Woodlands Wellness and Cosmetic Center also offer state-of-the-art procedures like CoolSculpting® to help clients achieve their aesthetic goals without surgery.
"Since working with the folks at Woodlands, I feel great. I am stronger, fitter, and far less anxious or depressed. Almost every day, I wake up in a good mood and full of energy, and my sex life has never been better! They really care and always seem to have your best interests in mind." –

Stan P. Pembroke Pines, Fl
If you would like to learn a little bit more about the many life-changing benefits of testosterone replacement therapy, please contact us today by calling (281) 223-1124.