The Surprising Benefits of Botox
Are you looking for a Botox specialist? According to the American Society of Plastic Surgeons, wrinkles are the #1 complaint among patients looking for cosmetic improvement.
Minimizing the presence of wrinkles can be difficult as we age, and this is one of the main reasons why Botox is one of the most popular treatments that physicians administer for this purpose.
At this point, you have probably asked yourself whether or not you should try Botox or not. Before committing to the procedure, it is important to understand what it is, what qualifies patients for treatment, and to overall understand more about this popular treatment.
What is Botox?
Surprisingly to many, Botox is synthesized from a toxin known as Clostridium botulinum. Botox is a brand name for this toxin made by the bacterium. Botox is the term you hear most often because it was the first injectable botulinum toxin that demonstrated positive results for reducing the presence of wrinkles.
This treatment has been used by doctors for years to treat wrinkles and the effects of aging on the skin. Botox works by blocking signals that are sent from the nerves to the muscles. The injected muscle, as a result, can't contract. This makes wrinkles relax and soften.
Botox is most often used on forehead lines, crow's feet (lines around the eye), and frown lines. Botox does not effectively help with wrinkles that are caused by sun damage or gravity. The effects of Botox will typically last anywhere from 3 to 6 months.
As muscle action slowly returns, the lines and wrinkles begin to reappear and need to be treated again. The lines and wrinkles often appear less severe with time because the muscles are actively shrinking with each treatment and healing.
Benefits of Botox
Botox has a number of useful applications that aren't limited to cosmetic and pain relief purposes. It is an FDA-approved treatment that is directly injected underneath the muscle to relax and smooth the skin.
Botox is most widely known for the benefits it provides to the skin. These include:
Reduced appearance of crow's feet, wrinkle lines
Smoother skin over time
Reduce the appearance of frown lines around the mouth/chin area
Additionally, Botox has other lesser-known applications that include:
Reduce severe underarm sweat
Helps treat chronic migraines
Reduces overactive bladder symptoms
Reduces neck and shoulder spasms caused by Dystonia
How Botox is Performed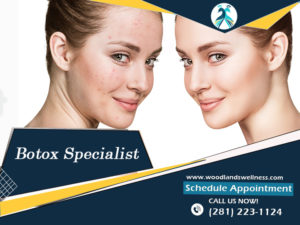 Before you begin the procedure, it's best to ensure the individual administering the treatment is a licensed professional who has found you to be a good candidate for treatment.
The Botox procedure itself only takes a few minutes and is minimal.
Sometimes, a topical anesthetic is applied to the skin to remove the chance of any sensations from the treatment. A fine needle is used to inject Botox into specified muscles of the face to achieve the desired effect.
The treatment can be administered to a few different regions of the face, including the brow line, forehead, or around the eyes. You can expect mild discomfort and a recovery time of about a week to ten days for the full effect to take hold.
Risks of Botox
Risks are very minimal with Botox, but they do exist. It's important to determine whether you are a good candidate for Botox or not. Your cosmetic surgeon should be a part of this vetting process by making various assessments to determine your candidacy.
Some side effects you should be aware of include:
Mild flu-like symptoms
Headaches
Difficulty swallowing, inflammation
While side effects are rare, your doctor can help you determine if you are a good candidate and whether you have a good chance at a successful treatment.
The Amazing Benefits of Botox
The benefits of Botox are expansive and can transform your appearance and well-being for the better. Whether you have cosmetic concerns or a medical condition, Botox can help.
Treatments are minimally invasive and can effectively help you minimize wrinkles and restore a more youthful and vibrant appearance. Reach out to your doctor or a professional Botox provider today to find out if Botox is right for you!
The Leading Botox Specialist In The Woodlands Texas
At Woodlands Wellness and Cosmetic Center, we are dedicated to using the latest techniques of Botox to help men and women look younger. You have probably heard of Botox and how it can be used to turn back the clock by removing the appearance of saggy, wrinkly skin around your face.
Our experienced team offers Botox using advanced cosmetic tools to remove the appearance of saggy, wrinkly skin around your face and restore your youthful look. That is why we offer our patients various noninvasive skin tightening techniques such as:
In addition to Botox, clients at Woodlands Wellness and Cosmetic Center also have access to a full range of hormone replacement therapies and anti-aging services to help you look and feel young, vital, and strong.
If you would like to learn a little bit more about the many life-changing benefits of our Botox and skin-tightening options, please contact us today by calling (281) 223-1124.