How Coolsculpting Help Get Rid of Stubborn Fats?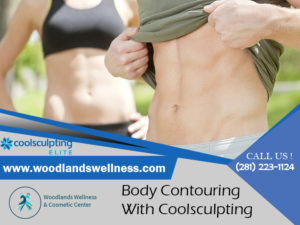 Do you want to get rid of stubborn fats? Do you consider a coolsculpting?
As long as dieters have been dieting, they've been searching for a way to target specific body parts that seem to hang on to stubborn fat.
Instead, they discover that weight loss just doesn't work that way. What they're attempting is called spot reducing, and it's not possible because fat loss happens all over your body with relatively even distribution. Even targeted exercise can't do the job.
Until recently, the only choice was surgery or liposuction. But now, there's a noninvasive way to smooth out those bumps and bulges so you can finally attain the perfectly contoured body you've always wanted.
At Woodlands Wellness and Cosmetic Center in Woodlands, TX, our experienced team of medical professionals uses revolutionary CoolSculpting® technology to target your problem areas and freeze away fat in a comfortable, relaxing session. Here's what you need to know.
CoolSculpting 101
When it comes to those stubborn, diet-and exercise-resistant pockets of fat, the only way to get rid of them is to … well … get rid of them. While dieting may shrink fat cells, those cells remain in your body, just waiting to plump up again.
And although exercise is great for toning muscle and burning some fat, it doesn't eliminate your fat cells — but CoolSculpting does. In the past, surgery and liposuction were the go-to methods for removing fat cells from your body, but CoolSculpting gets the job done without needles, incisions, bruising, pain, or downtime.
CoolSculpting works by lowering the temperature of your fat cells, which disables them so that they shut down and crystallize. After a couple of months, your body breaks down those dead, crystallized fat cells and processes them through your lymphatic system.
Because your body doesn't regenerate the eliminated fat cells, they're gone for good. One of the best parts about CoolSculpting is that it's safe. Fat freezes at a higher temperature than water, so your skin, organs, muscles, and other tissues aren't affected by the CoolSculpting process.
CoolSculpting lets you control your contour
Our team is highly experienced at guiding patients through the CoolSculpting process and deciding which areas to target. And that process starts with an in-depth consultation at which we listen to your unique journey, your ideal body image, and your aesthetic goals.
With that information, we can carefully sculpt your silhouette into a smooth new you by contouring problem areas such as:
Muffin top or tummy pooch
Bra bulge
Back fat
Saggy upper arms
Inner and outer thighs
Banana roll (under buttocks)
Love handles (flanks)
You're finally in control of where and when you lose fat. Each CoolSculpting treatment eliminates up to 20-25% of fat at a time, so you can decide how many sessions you want.
Reasonable expectations
As with any aesthetic procedure, it's important to keep your expectations realistic. While CoolSculpting can freeze away inches of extra, unwanted fat, it's not meant to be a weight-loss program.
If you're obese or are significantly overweight, it's best to start with a healthy diet and exercise program to get you close to your goal weight. Once you're within 20-30 pounds, CoolSculpting can get you the rest of the way.
The upside of CoolSculpting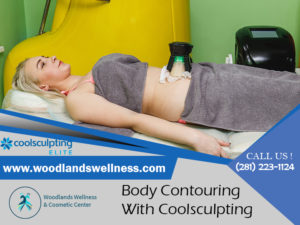 CoolSculpting has two huge advantages over invasive procedures: It's painless, and it requires no downtime.
You can expect your CoolSculpting session to be not only pain-free but also downright comfortable. Many of our patients relax and read a book or catch up on emails.
The hardest part of CoolSculpting may be the waiting period as your body adapts to the procedure and begins to eliminate dead fat cells. This happens over time, usually about 2-3 months. Once you see the full results, we can talk about the possibility of additional sessions to finish the job.
No saggy skin after CoolSculpting
Some permanent fat-removal techniques leave you with loose, saggy skin — but not CoolSculpting. Its patented cryolipolysis method of freezing away fat also triggers your skin to tighten up as the fat volume decreases.
In fact, CoolSculpting is an FDA-cleared treatment for tightening loosened submental (under the chin) skin during double-chin removal.
Maintaining your CoolSculpting contour
The key to maintaining your smooth new look is sticking to a healthy diet and exercise routine because even though you'll have fewer fat cells than before, the remaining fat cells will expand if you're not careful.
Everyone's weight loss journey looks different. If you've lost pounds but still have bulges of fat that you can't get rid of, no matter how much you ramp up your exercise or limit your calorie intake, we can help you break through those barriers without downtime or scars.
To find out if CoolSculpting is right for you, call the office at (281) 223-1124 or request an appointment. You can also contact Woodlands Wellness and Cosmetic Center via email here.