Everything You Need To Know About Coolsculpting
If you haven't heard about body contouring with coolsculpting, you'll be amazed at how this new procedure works to give you the body that you desire. People are into having fit and sexy bodies nowadays.
The problem is no matter how hard you diet or work out. There are always those problem areas where you can't get rid of the fat. Working out to get the body shape that you want takes dedication and hard work.
Fat deposits in the wrong places can be frustrating for many. Our bodies work in a way where a fat storage area becomes a routine space to store that extra fat.
No need to worry because there is a painless and effective way of achieving the body that you've always longed for. Coolsculpting can solve this issue by targeting the areas where you want those stubborn fats removed.
What You Need to Know About Coolsculpting
Coolsculpting, also known as cryolipolysis, is a cosmetic treatment that removes body fat by freezing the fat cells in certain areas of the body. It is an FDA-approved non-invasive procedure that carries less risk compared to liposuction.
Freezing temperatures are used to break down fat cells. The procedure takes about an hour to finish with no recovery time. You must wait 4 to 6 months before you see results with an average fat loss of 20%.
Studies have shown that coolsculpting is a generally safe and effective treatment for removing fat in unwanted areas in our bodies. A 2015 research published in Plastic and Reconstructive Surgery shows that people who have undergone the procedure showed an average of 14.67 to 28.5 % fat loss in areas treated by coolsculpting.
The usual areas treated are fat deposits on the thighs, torso, abdomen, and neck area. Fat areas under the chin are almost impossible to get rid of with exercise and dieting. If you are one of those who have given up on removing your love handles or neck fat, a single session can change your mind and convince you that nothing is impossible.
Are There Side Effects to Coolsculpting?
Unlike liposuction, the procedure doesn't require cuts, anesthesia, or medications. This is why there are lower chances of having side effects and complications. Some patients report soreness at the sight of the cryolipolysis which is similar to having an intense workout.
The common complications are:
Bruising
Swelling
Skin redness
Sensitivity
Localized pain
The Advantages of Body Contouring With Coolsculpting
Body Contouring with Coolsculpting is a proven and effective way to eliminate fat cells in unwanted areas, but you have to remember that destroying existing fat will not prevent new fat from appearing.
To maximize the effectiveness of the treatment, you have to start living a healthy lifestyle and exercise regularly for the best results. Here are the benefits of body contouring with Coolsculpting.
Eliminate Fats in Target Areas
Working out and eating healthy can help reduce your overall fat percentage, but when it comes to problem areas, they may not achieve the results you desire. It can be really frustrating that despite your efforts, you can't seem to get rid of unwanted fat in specific areas.

Coolsculpting is a perfect treatment for attacking certain areas where fat continues to get stored despite all the dieting and exercise. Once you've completed the treatment, fat cells will continue to melt and be flushed out from your body.

In cases where a single treatment is not enough, you can get added treatments for the best results.

No Surgery Involved
There are surgical procedures that can help remove fat in unwanted areas, but the risks are higher, and the recovery process takes longer. Coolsculpting is a non-invasive and painless treatment that doesn't get in the way of your busy schedule.

There is also no recovery period, so you can get back to what you are used to doing after the treatment.

No Pain
Beauty treatment without pain? Who wouldn't line up for that treatment? Invasive alternatives to coolsculpting can be painful and full of risks. The most you will feel after the treatment can be compared to the discomfort you feel after an intense workout at the gym.

Can Be Done Anytime
Life has its special events like weddings, graduations, reunions, and the like. With Coolsculpting, you can schedule a treatment that is properly spaced so that you can enjoy the benefits in the shortest amount of time.

Wouldn't it be great to look your best when a special event comes up?

Offers Permanent Results

Clinical studies have shown that the majority of Coolsculpting patients can expect a 20 to 30% fat reduction in targeted areas after three months. Since the treatment is a natural and non-invasive process, the results will take time to manifest.

Noticeable changes will happen in the first few weeks, while dramatic results can be seen in four to six months after the treatment. The best part about all this? The fat cells do not return.

You need to take note, however, that this doesn't prevent new fat cells from appearing, especially if you veer away from your diet and workout regimen. If you do experience new fat, you can always go back for another round of Coolsculpting sessions.
Are You Ready for a New You?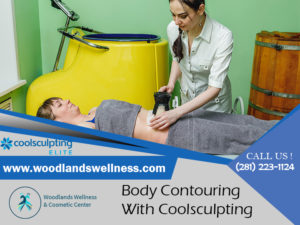 If you want to get rid of stubborn fat without surgery and pain, visit us at Woodlands Wellness Clinic and Cosmetic Center today.
Our team of fat-busting experts knows that not all patients will have the same problem areas.
We pride ourselves in coming up with a treatment plan that suits your specific needs and goals. Before your treatment, we will evaluate your health and discuss your goals so we can determine if Coolsculpting is the best treatment for you.
We will answer all questions you may have and lay down what to expect after the treatment. Our medical director and staff are passionate about helping people enjoy their lives and live them to the fullest.
Give us a call at (281) 223-1124 to learn more about our Coolsculpting therapy and our other anti-aging services.