Reverse Signs of Aging with Juvederm Dermal Fillers
A lot of people are unhappy with their appearances as they get older.
Things like loss of volume, wrinkles, and fine lines can make you look older than you are, and many people try everything to get rid of those pesky lines and fill their faces to look more youthful and well-rested.
Fortunately, Juvéderm in Woodlands has created the perfect formula to restore your youth and bring back your confidence.
What is Juvéderm, and Why is it Popular?
Juvéderm is one of the most popular dermal fillers available in the market. These injectables use hyaluronic acid as a base, which is a molecule that is naturally produced by the body.
The hyaluronic acid in it helps plump and refill the skin, giving the skin volume and fullness. However, hyaluronic acid diminishes as we age, causing the skin to lose volume while increasing the chances for wrinkles and folds to appear.
The FDA-approved formula for it flows easily into areas where help is needed. This has various product lines under its arsenal: Ultra, Ultra Plus, Vollure, Volbella, and Voluma.
Learn More Here: How HydraFacial in Woodlands Will Change Your Skin
Each type of hyaluronic acid injectables from it vary in product thickness and elasticity, so you can choose which product is suitable for your skin concerns.
Anesthetic lidocaine can also be injected with it to help reduce the pain associated with injectable fillers. Depending on the product, the results can last up to one year.
With Juvedérm, you get a natural-looking lift in all the right places, giving you volume in different parts of your face.
How Does Juvedérm 
Dermal Fillers 
in Woodlands Lift the Face?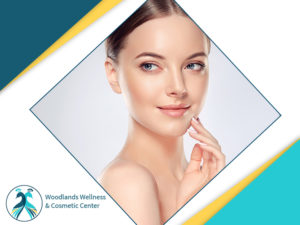 There are plenty of reasons why people opt for a facelift.
But the goal behind the procedure is always the same: restore some of your youthful glow by carefully pulling sagging skin and tissue to re-contour the face. 
Juvedérm dermal fillers contain hyaluronic acid, a substance that occurs naturally in the body. The humectant properties of hyaluronic acid help the skin look full and plump.
The primary function of hyaluronic acid is to bind water, which helps to hydrate, retain moisture, and make skin supple. Hyaluronic acid dermal fillers can be injected into different areas of the face to create a more sculpted and defined appearance.
For people looking for a more youthful look without surgery and downtime, Juvederm dermal fillers are an excellent option. Several Juvederm products are available that can be used to lift, sculpt, and rejuvenate the face.
In general, thicker products are typically higher density and designed to define cheekbones and jawlines. Bouncy Juvederm products are used to add volume to the cheeks and lips, while thinner products are used to add hydration without altering the structure or volume.
Get An Instant Facelift with Juvedérm in Woodlands
Lifted cheeks – Cheek fillers provide both structure and support, enhancing cheekbones and preventing sagging. If your cheeks appear sunken or droopy due to volume loss, you might be an ideal candidate for it as cheek fillers.

It is designed to lift and contour the cheek area by adding volume beneath the skin's surface.

Plump lips – As we age, smile lines may appear, and our lips tend to thin. It can be very effective for smoothing out smile lines, facial folds, and wrinkles. it can also be used to non-surgically enhance the lips.

Just like lip implants, dermal fillers like it can give you fuller lips, but without surgery! This plumps up the lips and creates a beautiful, natural-looking smile.

More pronounced chin – Our faces tend to sink and fall downwards as we age. The chin may look square, and the neck may even drop. It can be used to improve the chin and jawline profile.

It can improve facial harmony by strengthening the lower face, softening jowls, improving double chins, or producing a stronger and more defined jawline. With this, your jawline will appear snatched and sculpted in a way that even the best contour kits can never accomplish.

Less-sunken eyes – It also has products that can be used on the under-eye area to prevent a hollowed-out look. Under-eye fillers are injected into the deep hollows beneath the eyes or along the tear troughs to give the eye area a fuller, less-sunken appearance.

In addition to dispersing dark shadows under the eye, dermal fillers smooth out fine lines. You will look more youthful and rejuvenated by reducing the appearance of bags under the eyes and dark circles under your eyes.
Juvedérm is the top dermal filler brand for adding volume to different parts of the face, giving them a natural-looking lift.
Looking for Juvedérm in Woodlands?
Woodlands Wellness & Cosmetic Center provides different high-quality Juvedérm products in Woodlands, TX. It has various product lines under its arsenal: Ultra, Ultra Plus, Vollure, Volbella, and Voluma. In all it products, hyaluronic acid is used as a base ingredient.
Woodlands Wellness is a premier medical spa in The Woodlands, TX. We specialize in regenerative and functional medicine, as well as aesthetic treatments. Our practice is proud to offer the latest medical aesthetics and anti-aging services.
We provide tailor-fit programs to identify and resolve underlying health problems that affect the body and the mind.  When it comes to getting a facelift without going under the knife, It can be a great choice!
Contact us today at (281) 362-0014 for a complimentary consultation so you can know more about Juvedérm, and we can help you choose the best treatment well-suited for your facial features and concerns.