Why HydraFacial Skin Renewal Treatment is so Popular?
Everyone's talking about HydraFacial, making it one of the most popular beauty treatments available today.
Celebrities and influencers are raving about this treatment, and we just want to experience this immensely popular and life-changing beauty treatment for ourselves.
Flawless, poreless, glass skin is all the rage nowadays, and finding the perfect skincare regimen to achieve that is truly a difficult task. 
So What Exactly Is HydraFacial Treatment, And Why Is It So Popular?
HydraFacial is a safe, quick, and effective skin resurfacing treatment that promises to give you nourished and healthy skin. It is so gentle that even people with sensitive skin and acne-prone skin can undergo this treatment too! It has zero downtime as well, so you can go back to your daily activities right away. 
Skincare product trends such as vitamin C serums and retinol, multi-step skincare routines, and beauty treatments; all promise to give you that dewy, poreless skin you want to achieve. They may offer a similar iteration of "the look" that we desire, but some other products or treatments just don't work at all as they promised.
HydraFacial skin renewal treatment is a deeply hydrating and nourishing facial that is safe and gentle even for the most sensitive skin
How Do HydraFacials Work?
The procedure makes use of a tool that has a patented delivery system to exfoliate, extract, and hydrate the skin. What makes HydraFacial skin renewal different from other facials available is that there are only three steps needed to reveal the best skin of your life. 
Basically, the tool exfoliates the skin, penetrates it, and sucks up deep-seated dirt and comedones from the pores using vacuum technology. Step two: using the same tool, the skin is infused with a nourishing blend of moisturizers to hydrate the skin.
Lastly, the skin is saturated with a customized blend of antioxidants and peptides to nourish and seal your skin.  What sets HydraFacial apart from other facial skin treatments is that you can personalize the blend of serums to tailor-fit your skin concerns and needs.
Truly, HydraFacials are worth it, and they live up to the hype. HydraFacial skin renewal treatment is a good investment for the skin. After the treatment, it will leave you with dewy, glowing, and hydrated skin!
Your skin will thank you since HydraFacial gives you that clean and refreshed skin. You won't probably be trying out other facials after you get a HydraFacial.
How To Achieve Hydrated and Glowing Skin
HydraFacial is a non-invasive and pain-free treatment that will give you nourished and hydrated skin. The patented Vortex-Fusion delivery system is effective in cleansing, extracting, and hydrating the skin.
Not only that, but the nourishing blend of antioxidants and peptides will give you that instantly gratifying glow in just three steps.
Cleanse & Peel – The skin is cleansed and exfoliated using physical and chemical exfoliants to uncover a fresh layer of skin.

This step also massages the face which provides better lymphatic circulation and increases blood flow. The extra oxygen from the improved blood circulation helps invigorate the skin. 

Extract & Hydrate – The same wand sucks out the impurities, such as whiteheads, blackheads, and oil trapped in the pores.

This allows deeper penetration of ingredients. The diamond-tipped wand then infuses the skin with intense moisturizers to hydrate the skin. 

Fuse & Protect – It can be customized to suit your skin concerns.

Finally, your skin will be saturated and nourished with a bespoke blend of antioxidants and peptides to seal and protect your skin.
At Woodlands Wellness & Cosmetics Center, we understand how the skin works and what it needs for you to achieve that dewy, glowing, healthy skin you desire.
Learn More Here: RF Microneedling for Skin Tightening Results That Last!
Reasons Why People Choose HydraFacial Treatment
HydraFacial Treatment is not like your ordinary facial. It can be tailored-fit to you to address your own skin concerns. In just 3 simple steps and 30 minutes after, you'll be getting the best skin of your life.
Hydrated and brighter skin – Say goodbye to dry, scaly, flaky, or peeling skin. Hydrating moisturizers infused into the skin will give you more radiant and glowing skin.

Unclogged pores – The wand's suction mechanism removes dead skin cells, deep-seated dirt, and oil trapped inside the pores. This will give you a smoother appearance.

Improved skin tone – After exfoliating and clearing impurities such as whiteheads, blackheads, and comedones, It will reveal clearer skin with improved skin tone.

Firmer skin – Hydrating nutrients nourish the skin, making it more supple and firmer. It also helps stimulate collagen production. Collagen helps with the skin's elasticity.

Quick and pain-free – It only takes 30 minutes to see the results! 
What skin concerns can it address?
HydraFacial is for everyone; it is suitable for most skin types. It is so gentle that it is suitable for sensitive skin! Basically, anyone having problems with congested skin can get this skin renewal treatment.
If you have an active rash (like rosacea), cystic acne, or are pregnant, it's best to avoid this procedure. Although the procedure only takes 30 minutes, this treatment can address many skin issues in only one session!
Reduced elasticity and firmness

Oily and congested skin

Enlarged and clogged pores

Dull and uneven skin tone

Sensitive skin

Fine lines and wrinkles

Dark spots

Acne

Extremely dry skin
Rejuvenate your skin after only one session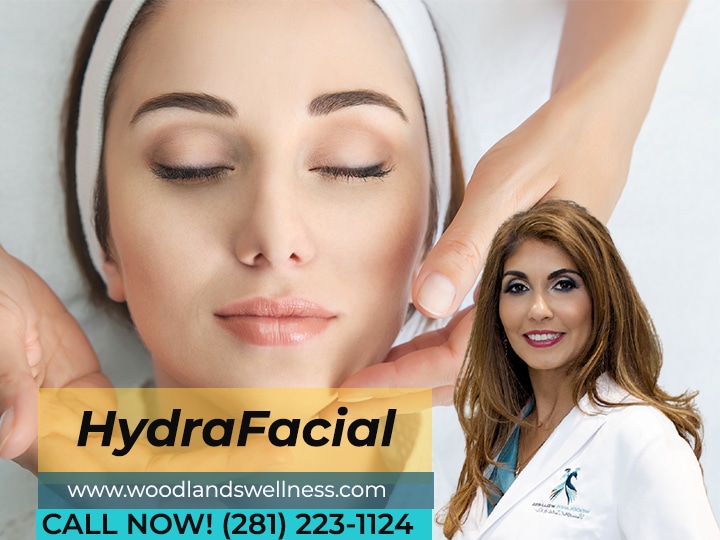 After just one session of HydraFacial, you will immediately notice the results!
Your face is instantly glowing, more radiant, and feels so clean!
HydraFacial will also improve skin texture and rejuvenate the skin; you'll be left with soft and supple skin! It also helps fade blemishes to give you that smoother face.
If you maintain consistent HydraFacial sessions, over time, you will notice increased suppleness, reduced fine lines and wrinkles, and improved skin hydration. You can experience the benefits of the popular facial treatment HydraFacial at Woodlands Wellness & Cosmetic Center.
We can help you achieve your desired skin in 30 minutes. Skin health is a combination of different factors. No matter how great a facial treatment is, you should still maintain a good skin care regimen to achieve healthy and hydrated skin. You should also eat healthy meals.
Remember, healthy skin depends on what you put on your skin and what you put in your body. Are you ready to get the best skin of your life? Woodlands Wellness & Cosmetic Center is a premier medical spa in Woodlands, Texas.
Aside from specializing in regenerative and functional medicine, we also offer different cosmetic procedures. We believe that functional medicine boosts overall wellness and addresses cosmetic concerns.
We offer a holistic approach in our practice; we believe that identifying and resolving underlying health concerns is the best approach to leading a healthy lifestyle. Our clinic's full range of aesthetic treatments will also help address your concerns, such as anti-aging and skin tightening.
We specialize in anti-aging treatments and offer state-of-the-art procedures that will help you achieve your aesthetic goals without surgery. Contact Woodlands Wellness & Cosmetic Center today at 281-362-0014 for a complimentary consultation to get your glowing, flawless, and healthy skin.