Lose fat and contour your body with CoolSculpting in The Woodlands, TX.
If you could change one thing about your body, what would it be?
Most people would say they want to remove stubborn pockets of fat that they cannot seem to remove through diet or exercise.
Are you one of those people? Then maybe, CoolSculpting in Woodlands, TX, is for you.
What is CoolSculpting®?
This FDA-approved method removes stubborn fat without undergoing surgery from stubborn parts of the body. Using controlled cooling, It targets fat cells beneath your skin while leaving the surface skin unaffected.
The fat cells gently freeze and die and are then flushed out of the body via natural processes. CoolSculpting Elite in Woodlands, TX, offers several advantages over traditional surgical procedures for those looking to lose excess fat.
CoolSculpting is a nonsurgical, FDA-approved fat reduction treatment that freezes stubborn fat cells at the surface of your skin. It's safe, effective, and fast.
What Happens During the Procedure?
The treatment itself is simple. A gel is applied to the skin, and the CoolSculpting elite device is applied to the targeted treatment area using a vacuum-type motion that sucks the tissue area as it performs its magic.
Under the guidance of the expert team at Woodlands Wellness & Cosmetic Center, controlled cooling is used to eliminate the targeted areas of fat, leaving sculpted results in its wake.
Learn More Here: Love Your Body: Facts About Body Contouring in Woodlands
Interesting Facts About CoolSculpting Treatment
If you are considering a CoolSculpting procedure in The Woodlands, TX, here are ten interesting facts that may help determine if this is the proper treatment for you.
FDA-Approved – It is an FDA-approved treatment for fat loss, so you know it is safe and effective! Some areas can benefit from this FDA-approved treatment, including the abdomen, flanks, thighs, upper arms, back, and under the chin and jaw.

Get up to 25% fat loss after a single treatment – The average patient loses up to 25% of their body fat after one treatment in clinical studies. It is designed to reduce fat to the point where patients are satisfied with their new body shape after this treatment.

As CoolSculpting treatment is designed to sculpt and contour the body rather than lose weight, and it is not recommended for overweight or obese patients.

Has the Same Effects as Liposuction without Going Under the Knife – The benefits of this treatment are similar to those of liposuction, but it doesn't require surgery or anesthesia. This in-office alternative to liposuction also comes with fewer risks and doesn't leave behind scars or potential tissue damage!

This nonsurgical fat removal technique eliminates stubborn fat using the freezing theory without damaging surrounding skin and tissue.

No downtime – There is no downtime or recovery required with CoolSculpting treatments. After your procedure, you can usually go about your daily routine as you normally would.
After a CoolSculpting treatment, you might get a little red, tender, swollen, or numb. The effect usually goes away after a few days and will not affect your normal activities.

For Both Men and Women – Women tend to store more fibrous fat, which is harder to lose with traditional weight loss methods. They also tend to store more fat in their legs and hips. Meanwhile, men tend to store fat in their bellies because it is firmer and more concentrated.

Although men and women store fat differently on their bodies, this treatment works well for both. The great thing about CoolSculpting elite in Woodlands is that it works on both fibrous and firm fat, making it an equally effective treatment for patients of both genders.

You can use this for multiple areas of the body – Body contouring with CoolSculpting elite can help you target those stubborn areas that hold on to fat. Do you have stubborn pockets of fat under your chin, on your upper and lower abdomen, flanks, back, hips, thighs, and upper arms? The treatment got you covered!

Uses Cryolipolysis Technology – Cryolipolysis is the process of deep-freezing fat cells underneath the skin to destroy them permanently. CoolSculpting freezes the fat cells beneath the targeted treatment area using cryolipolysis technology.

Fatty tissue is cooled to as low as 4 degrees Celsius to destroy fat cells and prevent further fat buildup.

It's Not for Weight Loss – A CoolSculpting treatment involves freezing localized fat deposits and reducing circumferential fat deposits in the treatment area. You won't lose weight with this treatment procedure, so patients who are obese and overweight may not benefit from this procedure.

However, if patients look slimmer, their clothes will fit better as the stubborn pockets of fat are removed.

Results can be seen in 6 weeks – Fat cells are permanently destroyed during the procedure. After your treatment session, fat cells dissolve and are flushed out of your body, revealing a more toned appearance.

We achieved Diamond Status – Woodlands Wellness & Cosmetic Center in Woodlands, TX, has been designated as a Diamond provider of Allergan products. You can be confident that our specialists will provide you with the best care possible.

Achieving Diamond status is an extraordinary honor that only 4% of cosmetic physicians accomplish. Having a diamond status means that our doctors are more experienced than most and consistently produce excellent results, making us an exceptional choice for body contouring.
Achieve The Body You Desire with CoolSculpting Elite in The Woodlands, TX.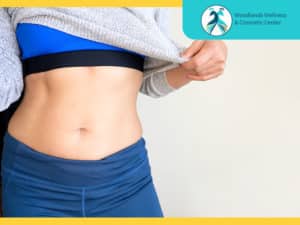 Eliminate stubborn pockets of fat safely and effectively with CoolSculpting elite. You can lose up to 25% of fat in a single treatment.
The Woodlands Wellness & Cosmetic Center specializes in functional and regenerative medicine and cosmetic procedures.
Functional medicine enhances overall wellness and addresses cosmetic concerns. The best way to live a healthy life is to identify and resolve underlying health concerns.
Discover the benefits of CoolSculpting elite. Contact Woodlands Wellness & Cosmetic Center at (281) 362-0014 for a complimentary consultation.