Muscle Sculpting with TruSculpt Flex | Houston, TX
Muscle Sculpting with TruSculpt Flex can help you at Houston get the toned look you want!
We know that no matter how much you work out, sometimes you just can't get the exact toned and fit look you dream of.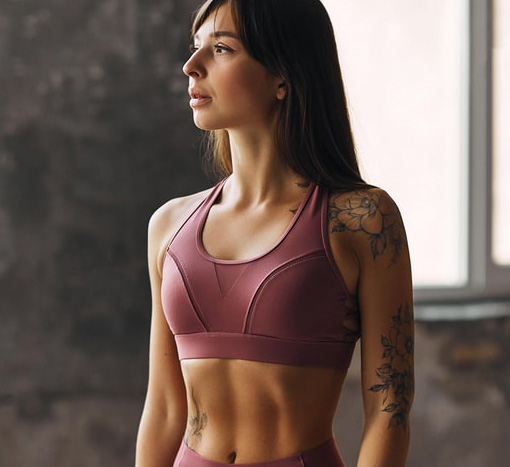 That is why we offer the revolutionary Muscle Sculpting technique of TruSculpt Flex for patients in Houston, TX. TruSculpt Flex is a personalized Body Contouring treatment for any shape or body type at Houston, TX.
The revolutionary TruSculpt Flex is clinically proven to eliminate fat in stubborn areas around your abdomen and flanks. The procedure takes as little as a 15-minutes per area, and it is completely personalized to your individual needs with no downtime.
TruSculpt Flex uses the thermal energy produced by RF waves to literally melt away fat. The heat directly targets fat cells, so the procedure is accomplished with no downtime.
The specific radio waves are tuned to provide the therapeutic heat at the ideal level to dissolve fat cells. All you feel is a mild warm sensation!
All of our Body Contouring techniques for Houston, TX, are safe, non-invasive procedures using advanced technologies that help you get the toned body you want without surgery or downtime. The results can offer your problem areas a dramatic change in appearance.
At our clinic, we provide clinically proven Body Contouring Techniques for patients in Houston such as:
All of these Body Contouring techniques can provide remarkable results. You and your doctor will decide which is right for you. It is our goal to offer all of our patients in Houston, TX, the latest technologies that have proven to help both women and men in Houston feel better, look better, and function better in all aspects of life.
What Areas Does TruSculpt Flex Treat?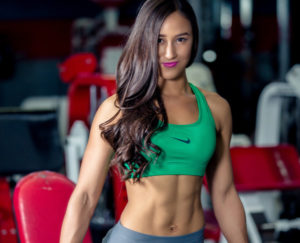 Body contouring helps you target those stubborn areas that hold on to fat, including:
Upper and lower abdomen/stomach
Arms
Legs
Hips
Thighs
Buttocks
When you visit our clinic, talk about your aesthetic goals with your doctor, so he or she can develop your personalized treatment plan at Houston, TX.
What Can I Expect from TruSculpt Flex Elite?
The unique monopolar RF technology of TruSculpt Flex penetrates deeply and evenly to treat the entire fat layer from skin to muscle. In clinical trials, the thermal energy of TruSculpt Flex was shown to remove 24% of fat tissue after just one treatment!
TruSculpt Flex requires little or no downtime. During the procedure, all you will feel is a mild, comfortable warmth, like you would with a hot stone massage.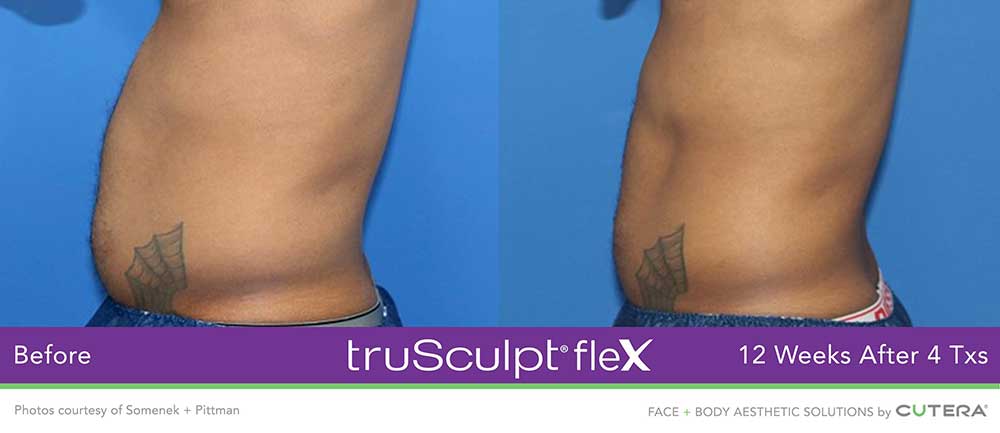 After your procedure, you can usually go about your daily routine. You may experience mild sensitivity to the touch for a few days, but you'll be able to immediately return to normal activities and exercise.
As long as you maintain your body weight, you should start seeing results in 6-12 weeks. Once you've completed your treatment, the fat cells continue to dissolve and flush out of your body.
That's why your results continue to appear after your procedure.
Your doctor will monitor your progress at Houston, TX, and continue to talk to you about your desired results. It's possible that additional treatments might be needed for the best possible outcome.
If you're ready to reduce unwanted fat that won't seem to go away at Houston, TX, TruSculpt Flex is one of the latest state-of-the-art technologies we offer to help patients in Houston achieve the body they deserve.
What Makes Us Different for Houston, TX?
We realize that not all patients at Houston, TX with stubborn, hard-to-remove fat will have the same problem areas or fitness goals. We will tailor your body sculpting and aesthetic treatment plan to your unique needs and lifestyle to maximize your benefits and optimize your results.
Drs. George and Sakina Davis, and our entire staff are committed to making sure that all of our clients at Houston, TX, receive expert care from providers who specialize in cosmetic and body contouring procedures. This unique approach identifies and resolves underlying health problems that affect both body and mind. Functional medicine boosts overall wellness and addresses cosmetic concerns.
In addition to body contouring and a broad range of other cosmetic procedures, clients at Houston, TX, also have access to a full range of anti-aging services and Hormone Replacement Therapies, including Menopause Treatment, Testosterone Replacement, and Growth Hormone Therapy.
Our goal is to help as many people as we can age optimally and continue to enjoy all the things they love about life!
Contact us today at 281-362-0014 for a complimentary consultation to see how you can benefit from liposuction or any of the anti-aging services offered at our clinic.
Common Questions About Muscle Sculpting

What Is Muscle Sculpting?
Muscle Sculpting is a way to remove fat and contour or sculpt muscles into a fit and toned look you cannot get through diet and exercise alone.

What is TruSculpt Flex?
truSculpt 3D is a unique, noninvasive radiofrequency treatment that is optimized to sculpt problem areas for impressive results with no visible downtime.

How Does TruSculpt Flex Work?
truSculpt 3D literally melts and removes fat cells with specified thermal energy. The energy is optimized to selectively damage fat cells, leaving other tissues unharmed.

How many Treatments Are Needed?
Multiple areas can be treated in as little as one 15-minute session. Results are visible after just one treatment, with maximum results seen after 12 weeks. Additional treatments may be required to achieve the personalized results you desire.

Will TruSculpt Flex Keep Me From Gaining Weight?
Like all Body Contouring techniques, TruSculpt Flex isn't a cure for weight loss. However, it can reduce areas of fat that won't go away with regular diet and exercise. In order to maintain results, body sculpting patients should follow a healthy exercise and eating regiment.

Hear what people are saying about us. Read the amazing reviews and testimonials from real-life patients we help every day. Woodlands Wellness and Cosmetic Center amazing anti-aging treatments are nothing short of life-changing.
I've been seen Dr Sakina Davis for about 15 years now, she is very professional and spends enough time with you to treat the 'whole you', everything is connected and balancing hormones helps to treat and prevent many conditions. Her experience with bio-identical hormones proved invaluable for that particular stage of my life when I needed it the most. She is always up to date with new treatments coming up and this cutting edge medicine she practices has helped, also, with my back pain issues, allowing me to avoid a fusion surgery and still be able to function. Her staff is super efficient, nice to deal with and first class. AAA+

I've been seeing Dr. George for 10 years and absolutely love him and the staff. He always has your best interest at heart and does everything possible to achieve your goals and produce positive results. Wouldn't go anyplace else for my cosmetic needs!

This has been one of the most rewarding experiences I have ever had in a medical setting. The doctors and staff are the most professional, personable, and talented providers I have met. The results are phenomenal and went way beyond my expectations. I can honestly say that the value of the services have been fantastic and I would do it all over again...but I do not need to because it was done right the first time. :). I highly recommend Woodlands Wellness & Cosmetic Center!