Are you having trouble losing stubborn fat? Body contouring solutions in Woodlands to help you achieve your ideal body.
There's a reason for the season, and it's body contouring. Autumn isn't just about holidays, family meals, and gorgeous scenery.
Autumn is the perfect time for non-invasive and minimally invasive body contouring procedures to boost your confidence this season and every year. Clothing layers and multiple holidays make it the ideal time to try CoolSculpting.
While bikini season has ended, planning your body contouring procedure for the fall can help you look and feel good during next summer's swimsuit shopping. Now that temperatures are slowly cooling, it's prime time for Body Contouring here at Woodlands Wellness & Cosmetic Center in The Woodlands, TX.
Body contouring is safe, effective, and non-surgical! With CoolSculpting, you can freeze stubborn fat cells and eliminate them safely.
Body Contouring & Autumn Just Make Sense
Here are a few good reasons why the cooler autumn months could be the best time for body contouring:
Autumn is less busy than the summer months.
Summer is loaded with activities, vacations, and parties. If you have kids, there's also the struggle to shuttle them to and from their own activities. There simply is no time to squeeze in some extra time for yourself.

Autumn has a much slower pace compared to the summer months. Plus, if you have kids, autumn means going back to school. Parents and non-parents usually have some extra time to themselves this time of year after their busy summer schedules settle down.

Getting back into a routine is easier in autumn.
The summer season isn't exactly structured. Whether you're on vacation, enjoying long weekends, or attending backyard cookouts, you're probably bumping from one place to another.

As a result, it's challenging to stick to an exercise program, workout regimen, or even a cosmetic procedure plan.

Autumn, on the other hand, is an entirely different story. Your weekly routine has become more structured now that summer vacation is over.

We didn't think we'd ever say it, but at least that's one perk of your vacation being over. You can now stick to your body contouring treatment plan this autumn without worrying about unplanned trips.

You can get ready for next summer.
Remember that your results will not appear overnight, even if you undergo non-invasive or non-surgical body contouring. The right timing and planning of your treatments are therefore crucial.

Results from body contouring procedures like CoolSculpting are usually evident within 6 to 12 weeks, while most effects are seen after four months since the first treatment session.

Learn More Here: Love Your Body: Facts About Body Contouring in Woodlands

In most cases, the best results are achieved with 1 to 3 treatment sessions. The sooner you start your procedure, the better your chances of feeling your best for next year's bikini season. Don't hold off until springtime!
How To Tone Up This Autumn
You may wonder what to do to get more definition in your body. The answer is simple: lose body fat. Here are ways to tone up this autumn.
Join a gym.
Autumn is right around the corner, which means cooler weather and changing leaves. It's the perfect time to get active. Why? Because it'll help you develop healthy habits to maintain throughout the winter.

Stay active around the house.
In summer, staying active is easy, but it becomes increasingly tricky as autumn approaches. The cooler weather might be causing you to turn on the TV more often now that the days are shorter.

While it may be cold outside, you can do things inside your home. Take advantage of that time instead of becoming a couch potato. Challenge yourself with push-ups, sit-ups, or jumping jacks during a commercial break. While watching TV, you can also hop on the treadmill for a short walk while enjoying your favorite show.

Try walking more.
When it comes to walking, autumn is the best time of year, especially if you're starting slowly. Not only do you get to see all the colorful foliage, but you also get to breathe in the crisp, fresh air. The temperature's also perfect since it's not too cold or hot.

Walking has many health benefits, including improving your balance and coordination, strengthening and toning your muscles, and maintaining a healthy weight. Always remember that the faster, farther, and more frequently you walk, the greater the benefits you'll enjoy.

Try outdoor activities to get you moving.
Embrace the changing of the seasons by trying out outdoor activities. A fun and accessible outdoor activity will help you stay active this fall. Fortunately, The Woodlands, TX, have great places to do hiking, canoeing, and even outdoor yoga!
CoolSculpting: Body Contouring Perfect For Autumn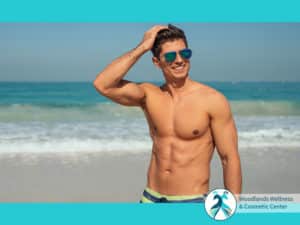 CoolSculpting is one of the best body contouring treatments available in The Woodlands, TX.
It's a safe and effective treatment for non-surgical fat reduction, which can reduce stubborn pockets of fats in the arms, tummy area, back, hips, and thighs.
CoolSculpting freezes the fat cells beneath the targeted treatment area using cryolipolysis technology. Fatty tissue is cooled to as low as -11 degrees Celsius to destroy fat cells and prevent further fat buildup.
Feel Great This Autumn with Body Contouring in Woodlands, TX
Get a headstart for your summer body with body contouring at Woodlands Wellness & Cosmetic Center this autumn. Enhance your figure with one of the best body contouring treatments, CoolSculpting Elite!
Learn more about how you can shed those unwanted fats this autumn. Contact Woodlands Wellness & Cosmetic Center at (281) 223-1124 for a complimentary consultation.